You're safe, Marcus's claim is about transversal climbs. You only bet on traversal climbs.
Y'all are insane in the most beautiful way. Great work!
Nice! Looking forward to seeing you in St Louis.
Seeing, sure. Competing against? That's a different story. Unbelievable robot guys, I know 4256 (my high school team) will love seeing y'all at St. Louis. I wish I could be there just to see this in person.
This is so cool. Very happy someone pulled it off. I think there are a few others out there.
Someone did the thing! Someone really did the thing!!
Most teams buy/make 5 modules so that they will have a spare…
Well Done!
Please tell me it's called 'battleship'
Is that front bumper that you glide up the rails with legal? It does not look like a 2.5in pool noodle inside.
looks normal to me from the vid. do you have a screen grab of it that makes you question it? (I rewatched in .25 speed with a lot of pausing)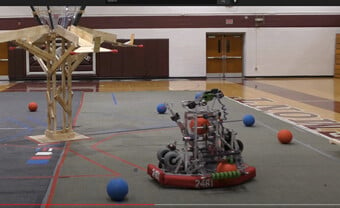 From here it looks small and then as it got close it begins to look normal again. I'm also looking at 0:55 in the video.
Its mounted high to get the slide effect to work, it may be mounted with recessed to get to the frame.
Do I think they have a small noodle no 2481 is to classy for that, it just looks weird!
Congrats on pulling it off!
I was wondering when we'd see a robot that could climb traverse on the absolute edge of the bar, making room for a triple traverse.
This is absolutely NOT what I had in mind. My first reaction was "what in the world…"
Awesome design. 2013 Robonauts vibes.
You think this will create a new rule about not being allowed to drive on field elements like this?
If so, I bet this video is driving FIRST HQ up the wall right now…
Did you consider smaller wheels, like 2", for the floor and truss driving wheels? I could imagine smaller wheels would allow for less width sacrifices?
Would be awesome to see some of the prototypes that went into this.
Congrats on an awesome accomplishment!
-Mike
From at least what we calculated, we couldn't figure out a way to accomplish driving up the truss specifically with enough margin for the hook at the top that we were comfortable with without making the robot at least 44 in long. At least in our testing, under full weight and with a robot that long, big wheels a bit higher up with higher surface friction worked a lot better than small wheels.
We didn't want to drive up the wall for risk of damaging the glass, though this could have been a shorter robot.
I'll dig around for what we have for development when I have a spare moment. It's been a fun ride.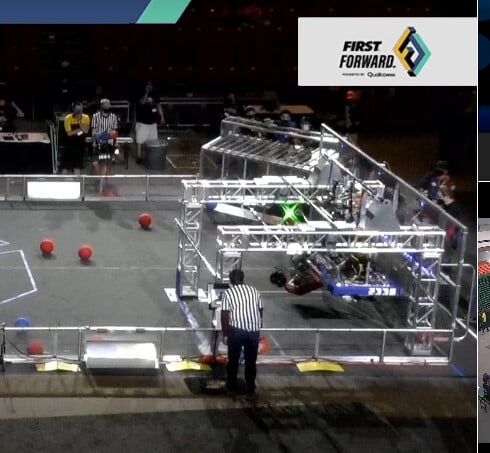 @Connor_H time to eat a shoe