This is a Unity simulator that essentially replaces the physical robot and lets the exact same ROS robot code run as if the real robot was there.
This simulator simulates the robot sub-system control (intake, shooter, hood, flywheel, and drive train) including the vision tracking, where Unity sends a camera stream over to ROS in order to use vision processing. This is meant to help speed up the process of coding, testing, and running the robot code more efficiently and without access to the physical robot. I especially see this useful in situations where the robot is still being built during build season.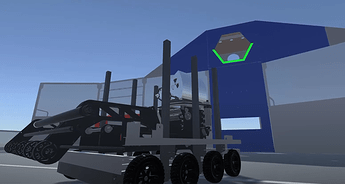 Below is a short video showing the Unity simulator in action!
-https://www.youtube.com/watch?v=A66TlzYuKSo
Below is also a diagram showing the complete ROS system running alongside both Unity and the physical robot. The RoboRio and outside sensors are the parts that are replaced by the simulator while the code inside the co-processor remains the exact same.
This was done using Unity, the ros-sharp library, and ROS. The GitHub for the Unity simulator and the ROS robot control code are below.
Unity Simulator GitHub -GitHub - LeonidasVarveropoulos/UnitySimulator-ROS: This is a Unity project that works as a simulator for the ROS FRC robot code hosted in the robot-frc repo.
ROS Control Code and Documentation -GitHub - LeonidasVarveropoulos/robot-frc: This is a ROS catkin workspace for a robot in frc
-Leonidas Varveropoulos