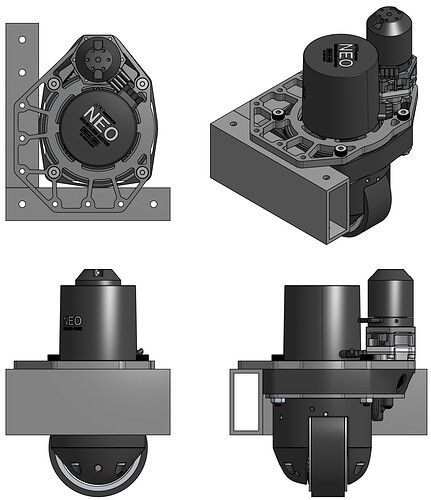 This project was a design collaboration between Brad Johnson (@LightSpeedIII) of FRC 1086 and myself (Preston Childress of FRC 401) to help us familiarize ourselves with OnShape. We wanted to design a low cost, small footprint, lightweight swerve module that we could play with and test in the offseason. We took a lot inspiration from previous designs by John Gallagher, Nick Coussens, and lots of other designers.
CAD
Bill of Materials and Gearing Calculations
Specifications
Dimensions

Drive Gearing

15.1 ft/s free speed (10:17 spur gears, 15:45 bevel)
16.6 ft/s free speed (11:17 spur gears, 15:45 bevel)
18.1 ft/s free speed (12:17 spur gears, 15:45 bevel)

Steering Gearing

444 RPM free speed (1:5.23 Ultraplanetary, 19:90 GT3 belt)

Weight

3.388 lb with aluminum plates and billet wheel

Cost

$445.18 total cost to purchase for one module
$1883.54 total cost to purchase for four modules
$1526.87 BOM cost for four modules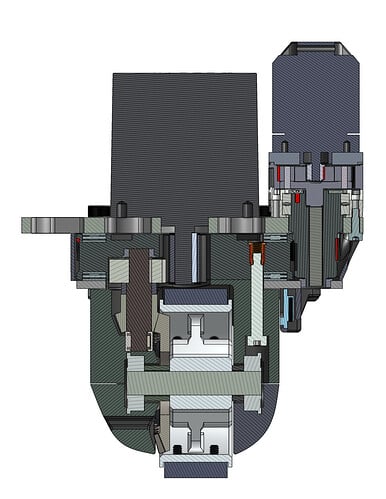 Features
Access ports - we felt that quick and easy maintenance was important, so the design allows access to all motor mounting screws, grease ports for both drive gearing stages, and access to the large bevel attachment screws all without any disassembly.


Bumper protected - we decided that it was important to limit module height as much as possible to ensure that the bumper protected it from other robots, game pieces, and field elements. At 6.916" in height the module is fully within bumper zones from all recent FRC games.


UltraPlanetary Output Shaft - By default the Ultraplanetary output allows 5mm hex output or use of the bolt circle, neither of which were ideal for a tinyl 3D printed pulley. Taking inspiration from Nick Coussens' inverted 2020 Summer? Swerve, the module instead uses a custom output stage with an integrated pulley and bearing mounting geometry. To ensure that the printed part doesn't break at a layer line a captive 5mm hex shaft is added that extends from the bottom bearing all the way up to the Ultraplanetary spline.


Single Spacer - The use of small radial bearings to constrain the module's rotation originally necessitated eight spacers to position bearings on shoulder bolts, switching to a single spacer part combined all of the spacers into one, enclosed the module, and retained the bearings so that they won't fall out of place if the module is disassembled


Thrust Bearing Design - Needle roller bearings and supplementary radial bearings are used in lieu of x-contact bearings to permit simple flat plate designs. Shoulder bolts used with the radial bearings are sized to allow approximately 0.003" of preload on the thrust bearings.


Easy to replace - Replacing a wheel assembly on the robot can be done by removing the four 8-32 Torx bolts retaining the fork bottoms, removing the four 10-24 shoulder bolts allows removal of the entire lower portion of the module, and removing the entire module from the chassis is as easy as removing six 10-32 bolts.


Non-handed design - All parts in the design can be used for left and right handed corners thus requiring fewer spare parts.

Hall effect homing - The module uses an embedded magnet and the new AndyMark Hall Effect Sensor to zero the module on match start and then uses the relative encoders in the Neo and Neo 550 for control during the match.
Planned Future Improvements
3D printed generative design wheel
Switch to dead axle
⅛" aluminum sheet metal based design for further weight reduction
Further reduce cost