Who do you thing will win the divisions / who will win the whole thing
5460, 3538, and 314 are my pick. I'll be rooting for my friends on 3538!
67, 910, 6344 i believe will take the cake, my bets on them
I don't think that strike zone and robojackets will win dow with there 3 pick 314 as a defense bot
All offensive alliance. 314's pretty good at cargo
Edit: just looked at our scouting data, they are the second highest cargo scoring robot on our field with close to all of it being in the cargo ship.
I think that the Consumers 1st seed alliance, 5050+33+4956 might have a very real shot at taking the whole thing. 5050 is really good, they've had some issues at their past events but I think they're often overlooked, and if 33 can get their triple climb up, well, they might be in the running for beating some high scores, and 4956 was a great third robot, just like over in East Kentwood, so we'll see.
Yeah I think if 33 gets their triple climber going, they have a really good shot at winning it all. But I think 67 and 910 are a force to be reckoned with as well. Both very efficient bots. I think all the number 1 alliances look pretty impressive. No matter what happens, tomorrow should be fun.

I like 314, but why aren't they named something Pi related? Hot take, a whole bunch of unknowns are gonna sweep the event.
I think we'll see the first seeds come out of all the divisions (though a case could be made for the 3rd alliance on DTE for sure) and I think the best contender to take the whole thing is 67-910-6344, though if they don't make it out of DTE my bet is on 5050-33-4956. The Dow 1st alliance is great but I don't see the finishing power that I see with DTE and Consumers.
If anyone is interested in making predictions, I have a March Madness style bracket made.
FRC MSC March Madness.pdf (38.2 KB)
Since there is nothing I love more than filling out brackets, here is mine: DTE 3 over Consumers 5 to win MSC, Dow 1 and Ford 1 in the Final Four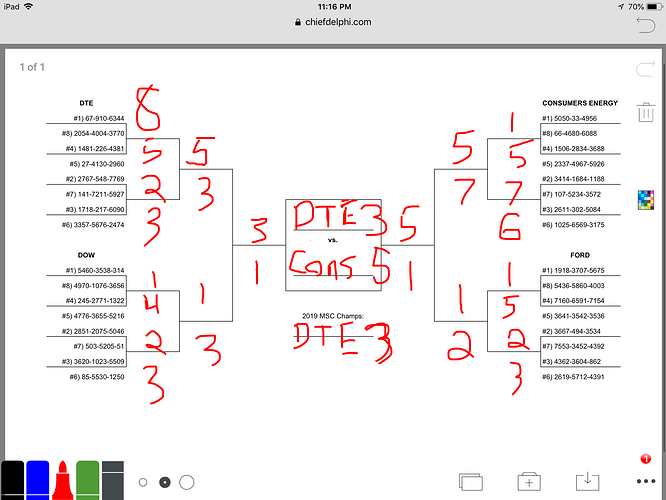 Would love to hear some thoughts on this. Potentially some upsets or tough match ups. I will keep bias out of my argument or discussion but there are a lot of great teams in these alliances and I for one am beyond excited for the morning. Good luck to all competing!!!
Using a March madness point system, my bracket earned me 19 points. (1 point for each correct 1st round winner, 2 for second round, 4 for 3rd, 8 for correct finalist, 16 for correct winner)
This topic was automatically closed 365 days after the last reply. New replies are no longer allowed.