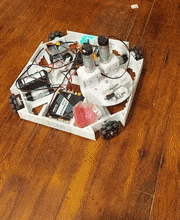 Here is a short example of a test drive. In the meantime a lot of code has been written, (Also this is without the arm mounted) The problem initially was that we really don't have a driver who could properly navigate the "maze" The FTC field is 12 by 12 feet and every 2 feet (24 in) there is a Pole (to put cones on) So you got to go straight or a true 90 sideways and if you are off you run into poles. The frame makes it difficult to get "hung up" which is good initially we had wheels getting snagged.
So our approach is what we call a "semi teleop" because our autonomous worked real nice. So we still have Joy sticks for "emergency" but we have defined buttons (and doing more) to do certain things. So for example we made sure the robot under Joystick control can only go fwd/back or strave right/left. We use an encoder on each wheel and have a button to go fwd/back/left/right for exactly 2 feet. And keep the "nose" pointed always in the same direction. So when we want to go to a certain square we might hit Fwd 2 feet 2x and right 2feet 3x to get there. As a side effect our drive code allone has grown to over 500 blocks/lines (using blockly and or Java). And that was with encoders. We now sometimes experience a little drift still so we are in the process of using the IMU to help with that. On the video posted. That drive has some problems on an old uneven wood floor as the tires sometimes spin out as you can see. It happens to a much lesser extend on the competition surface. So one of the tasks is to define and max acceleration/deceleration also to save time to avoid the overshoot by 2-4 inches and then the robot backing up to reach the pos defined by the encoders.
In the next 2 weeks we will also focus on automating the placement to avoid drivers to misplace the cone (next to the pole). I probably will update how that goes and post a video if we are successful.
Happy holidays everyone