We have been publishing our training slides and videos for over a year now. These are the primary way we have been teaching our team members in addition to hands-on sessions.
We have some new slides complete that don't have videos to go along with them yet.
B2.4 3D Printing Training - Slides
B2.5 FRC 3D Printed Parts - Slides - Collection of ready to print FRC parts.
B3.1 Maintenance and Triage - Slides
Illuminations 2022 - Link
Spectrum has just finished our 2022 "Illuminations" guide, designed to help answer common questions and provide recommendations for young FRC teams.
Suggested FRC Purchases
Along with Pearadox FRC#5414, we are mentoring 10 Houston area FRC teams in the Houston FRC Development Program. For that program, we have put together a couple of documents with suggested purchases for young teams to buy now if they have a purchasing system that takes a long time. The quantities are just suggestions, and you may not need all of these items, but they are a good starting place. These were based on the suggested items list from our FRC MCC Guide, which has also had some minor updates.
These are 3D printable parts that are designed to allow FRC teams to prototype mechanisms quickly. They are inspired by the various 3D printable prototyping systems such as HYPEblocks, Quick Build Connectors, Protopipe, etc.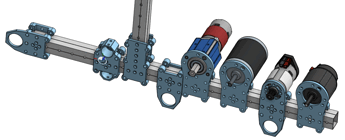 We created a simple system for collecting public CAD models of FRC robots and mechanisms.
The FRC CAD Collection currently has over 540 links to robots from almost 200 teams.
Looking through the CAD of completed robots is one of the best ways to get better at designing FRC robots. You can be inspired by past mechanisms and build methods of teams around the world, many you may never be able to see in person.
CADcollection.Spectrum3847.org
We are also collecting Tech Documents such as design notebooks, judge handouts, robot posters, build blogs, etc.
We are also collecting team programming projects and libraries.
Spectrum FIRST Choice and Voucher Guide 2022 - CD
We've put together our recommendations for FIRST Choice and the Virtual Kit of Parts Vouchers for this season.
If you have used any Spectrum Resources before, we'd love for you to tell us about your experience. This helps us know what to work on in the future, and we use quotes from here to help in our award submissions.
Other Resources