http://www.stltoday.com/news/local/education/girl-power-on-display-at-world-robotics-competition-in-st/article_21a457dc-2a22-533e-a821-d593463ad856.html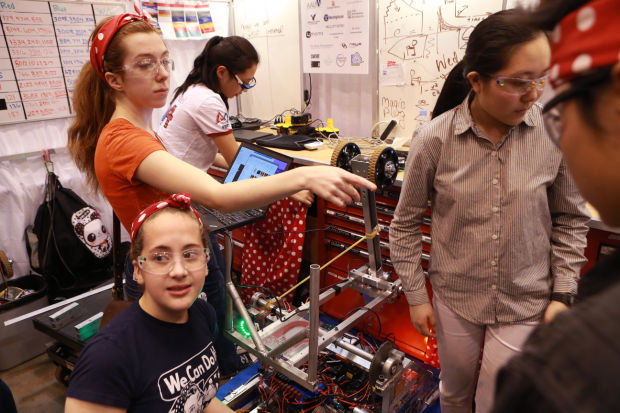 Photo Caption: Girls of Steel robotics team members, (clockwise from bottom left) Becca Volk, 15, Heather Harrington, 17, Molly Urbina, 16, Sylvie Lee, 16, and Gigi Nieson, 16, make preparations for practice runs at their station at the Edward Jones Dome on April 24, 2014. Photo by Christian Gooden, cgooden@post-dispatch.com
ROBOTICS
Girl power on display at world robotics competition in St. Louis
April 25, 2014 12:15 am • By Elisa Crouch ecrouch@post-dispatch.com 314-340-8119
ST. LOUIS • Thousands of goggle-wearing high school students have descended on the Edward Jones Dome this week for a competition that often leads to careers in engineering and technology — fields that have long been dominated by men.
Increasingly, the competitors are girls.
As the U.S. FIRST Competition marks its fourth year in St. Louis, the presence of girls on the world's best robotics teams has noticeably gone up, offering hope to corporations wanting to recruit from a more diverse pool of programmers and engineers.
More than a dozen girls-only teams can be found throughout the Dome and America's Center demonstrating their knowledge of programming and engineering. They have names such as Iron Plaid, Girls of Steel, SWAT and the Robettes.
And hundreds more girls on coed teams have leadership roles, such as Amber Terlouw, a junior at Westminster Christian Academy in Town and Country, in charge of electrical and pneumatic functions.
"I want to do everything," Amber said of her involvement. "Give me all knowledge."
Amber's interest appears to be happening on a larger scale on the country's best robotics teams, which could be a sign that more women are about to enter fields of science, technology, engineering and math, known as STEM.
Attracting more women to these careers has reached a fever pitch as companies look for a more diverse group of problem-solvers to help design products and technology.
Girls of Steel button
A Girls of Steel button
Robotics opens that door.
"Overall, girls in robotics are breaking the stereotype that girls can't do STEM," said Rosanna Harrison, a senior on the Girls of Steel team from Pittsburgh.
Girls remain a minority in robotics, making up about a quarter of those on high school teams, according to FIRST.
Many of the female members are involved with the business and marketing side of the competition— helping to raise money and design T-shirts.
But an increasing number of girls are involved with the engineering and programming.
Last year, there were just three girls on the high school team from Del Rio, Texas.
Now there are 13, team members say, including several in charge of their robot's electrical and mechanical processes.
The team from Auburn, Mich., is now half girls, half boys — with a girl serving as leader. The team from Penfield, N.Y., has tripled its number of girls since last year.
"I'm hoping it's a continuing trend," said Cynette Cavaliere, a mentor for the Penfield team and an environmental engineer at General Motors.
FIRST — For Inspiration and Recognition of Science and Technology — competitions began about 25 years ago to celebrate math and science in the same way Americans celebrate sports. Dean Kamen, inventor of the Segway Human Transporter, began the competitions to motivate more American students to go into STEM fields, where there was a shortage of workers.
But getting girls involved has been a challenge.
Robotics involves creating a robot from a box of cogs, wheels and other parts in a period of six weeks.
Construction requires welding, wiring, cutting metal — not the type activities that traditionally attract girls.
As a result, the ratio of male to female participation isn't improving as quickly as organizers would like.
"We're half to two-thirds where we need to be," said Donald Bossi, president of FIRST.
But female involvement in some STEM fields is even weaker in the workforce, where about 14 percent of engineers are women, according to the Society of Women Engineers.
Attracting women to STEM careers has become a national cause.
The Girl Scouts are involved. So is NASA. Corporations such as Monsanto and Microsoft are reaching into high schools to encourage more girls to major in math and sciences in college.
Girls of Steel robotics team members Lynn Urbina (left), 17, Molly Urbina (center), 16, and Mackenzie Ferris, 16, talk at their station at the Edward Jones Dome as the rest of the team prepares their robot on April 24, 2014. Though there are only a few all-girl teams at the championships, girls are becoming increasingly present in science and technology fields. Photo by Christian Gooden, cgooden@post-dispatch.com
"Diversity drives innovation," said Laura Stoll, a vice provost at Missouri University of Science & Technology. "You need all those different perspectives for creativity and everything else."
Locally, Washington University announced this year it is sponsoring an all-girls charter school focused on STEM education.
The Hawthorn School is expected to open in 2015 with sixth and seventh grades. By 2020, it's projected to include high school grades with room for 500 students. A location hasn't been announced.
This past fall at Missouri S&T, there was a slight uptick in women entering as freshmen. They make up 24 percent of the freshman class, up from 22 percent.
"We are making progress, but it's really, really slow," said Stacey DelVecchio, president of the Society of Women Engineers.
Inside the Dome on Thursday, throngs of teenagers moved their robots to and from qualifying matches. Larger robots went head to head in timed competitions on surfaces half the size of basketball courts.
Wearing safety goggles, Sydney Thomas and Ciarra Peters, juniors on the Westminster team, said they didn't know much of anything about engineering before joining robotics. Now they're hoping to make it their careers.
"You make something from nothing, which is really cool," Sydney said.