http://www.stltoday.com/news/local/education/robotic-invasion-coming-to-downtown-st-louis-from-across-the/article_7cc64cad-26ea-5271-85e7-b6cd6b1e0bd1.html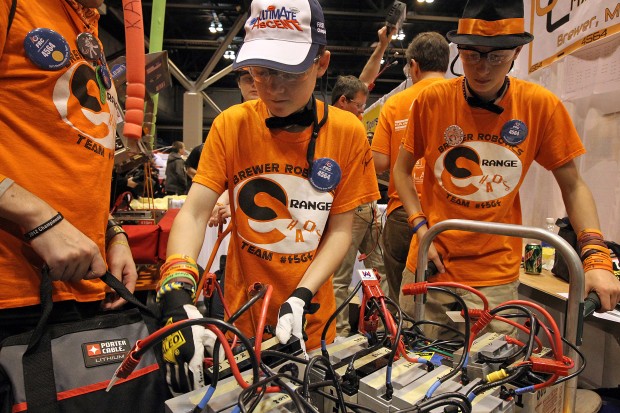 Photo Caption: Drew Bennett, center, of team Orange Chaos from Brewer High School in Brewer, Maine, checks to make sure his team has enough fresh batteries before the start of the Ultimate Ascent portion of the FIRST Robotics Championship at the Edward Jones Dome on Saturday, April 27, 2013. Photo by Stephanie S. Cordle, scordle@post-dispatch.com
Robotic invasion coming to downtown St. Louis from across the world
April 23, 2014 3:00 am • By Elisa Crouch ecrouch@post-dispatch.com 314-340-8119
ST. LOUIS • They've trounced hundreds of robotics teams at regional and state competitions. And Thursday, about 12,000 students in safety goggles will convene at the Edward Jones Dome and America's Center for the chance at world champion status.
It's the fourth year in a row that U.S. FIRST — For Inspiration and Recognition of Science and Technology — has held its top competition here, drawing competitors from 38 countries.
The matches will be timed and intense. The crowds thick. The stands loud.
Through it, thousands of students will demonstrate their knowledge of programming, and electrical and mechanical engineering.
For self-proclaimed geeks, it's a little like March Madness.
"It's an awesome experience," said Alex Roberds, a senior at Eureka High School and member of Oddly Charged Particles, an independent team bound for the Dome. "We're just excited to have this one last shot. You're always playing with the best teams, and it's great to meet people from all over the world."
The team is among thousands across the country that compete in FIRST robotics. Students must design, program and build remote-controlled robots from a kit of metal rods, gears, cogs and other widgets including motors and computer chips. Teams have six weeks to build their robots using those parts, plus whatever else they choose to buy within their budget.
This year, larger robots on fields half the size of basketball courts will battle it out by maneuvering exercise balls into goal areas. Smaller robots will compete by putting as many blocks as possible into plastic crates on top of pendulums.
Children ages as young as 6 compete in a LEGO League, which involves designing robots to do address weather-related problems.
"They are so excited," said Ann Kelly, the coach at Bishop DuBourg High School, which has a team of 13 competing at the championships for a second time.
As the popularity of robotics continues to grow nationally and internationally, so does the difficulty of landing a spot in the U.S. FIRST competition.
This year, the WIRED Community Team in St. Charles and the Cafe Bot team in Webster Groves will be competing — two independent teams with no school affiliation. Area schools in the middle to high school-level competitions are John Burroughs School, Clayton High School and Principia High School.
"It is becoming harder to go," said Tom Wendel, an engineer at Boeing who coordinates the company's robotics mentoring efforts in the area. "Every year we add more teams, but the number of slots remains the same."
Which makes it all the more exciting for those who make it.
"It's huge," Roberds said. "We weren't expecting to get this far."
Qualification matches begin at 9 a.m. Thursday. Members of the public will be welcome in some viewing areas at no charge. For more information about the competition, go to usfirst.org.