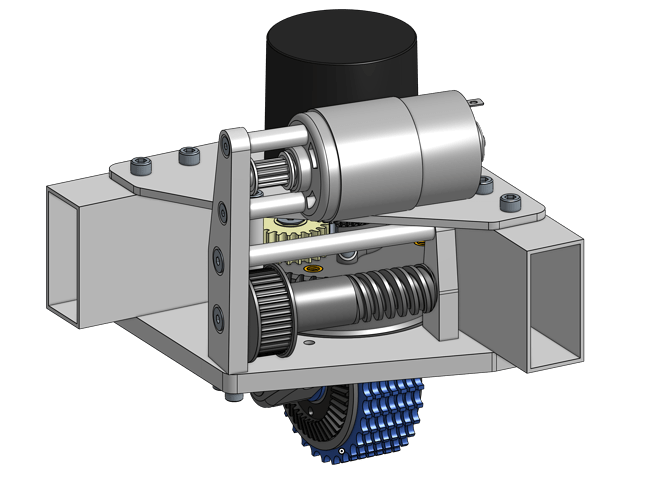 The idea of this design was to make a swerve that would use a 775 and a USD encoder for steering so the control loop could run on the Talon SRX. I also wanted to make it fit within a 5" by 5" square in the corner of the frame, while keeping it short enough to stay below the bumpers.
Not a super serious design, so I'm not going to bother with lightening the plates.
There are several things I like about this design that might make it onto future versions, but I don't really like the need for 4 machined plates, or the 3D printed worm reduction in general. I might make a version that uses a NEO to steer that would be considerably simpler. Questions, comments, and feedback are welcome.
One of my favorite aspects is that this has six gear ratio options from 9.9 to 19.1 FPS free speed all by swapping the first stage gears. The one in the CAD is for 15.2
Here's the CAD: https://cad.onshape.com/documents/e3e150ee965c3b0fc24cfc62/w/50615b38721d0db1df825f8c/e/37a6fab1f252452811c2e028
For fun, here's 4 put together into a 10" by 10" frame.