Will leave tomorrow to take bumble bot and some other 3DP stuff to the ERRF2019. At least what we have so far. Bumble Bot got reworked a bit as the kids decided to do the New Brunswick Erruption in november with it. And we are going Meccanum so we took the robot we built for the season apart to have the parts to do this. Now here is Bumble bot with the lifting system mounted. The motor mount that will drive it needs to be redone as there was a slight miscalculation The bottom will get an axle and some wheels. In this test we threaded one of the Churros we use as an axle and stuck a 1/4-20 bolt in it to fit the drill socket. At the end the bolt came out the rack will get a top piece so we get up to 21 in lift.
Sunday I was asked to give a little speech - about 15 min about 3DP an FRC robot so wish me luck. Initially we wanted to bring some kids but then it did not work that way this way. There is a reason we are taking one robot apart to put this one together. The reason we did not power the front too - well that would have required a 2nd drill.
And to keep the weight down - and save $$ we are using 3DP collars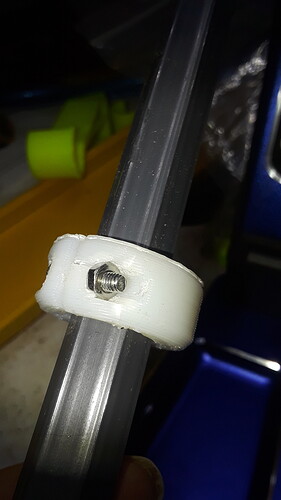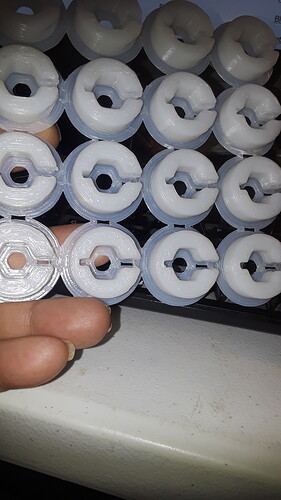 All files you see on grabcad here is a direct link to the Rack and Pinion which also has the collars
For now everything is printed in HIPS and its at this time about 90% on the CHIRON with a .8 nozzle. If you download it be aware its work in progress so files can and are changing. So for example on the racks we increased the backlash by .06mm which made them run smoother with the way our printer is tuned in on HIPS as we have a little more overprint than we initially thought.
Will let you know how it goes at the ERRF this weekend