Now that I've gotten Intellisense to behave with the assistance of this thread, I can ask my actual question:
This is our first year attempting to use CAN to communicate with any motor controller. We've been learning how to do the basics with a Talon SRX starting last fall, with success, but now that we've got Falcon 500's in hand, we're running into a bit of a roadblock. Hopefully, someone can help us find a solution.
We would like to use 2 Falcon 500's in our shooter (a common setup, I'm guessing). One will run in Closed Loop Velocity mode. The other will be belted to the same driving mechanism - we simply want the 2nd Falcon to follow the master TalonFX doing its PID thing.
Is it possible for a TalonFX to be a master to a follower? I've read documentation that a TalonFX can BE a follower, but I'm not sure I've seen where it can be FOLLOWED.
Intellisense makes me wonder - see screenshot…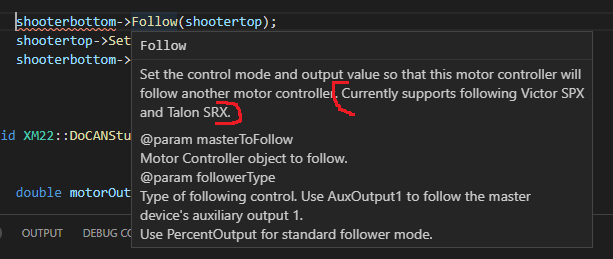 If this is not possible (sad face), is there a bit of code we can execute to simulate motor following in a straightforward manner? Such as read the calculated output from the master and then set the slave to the same?
Many thanks in advance.