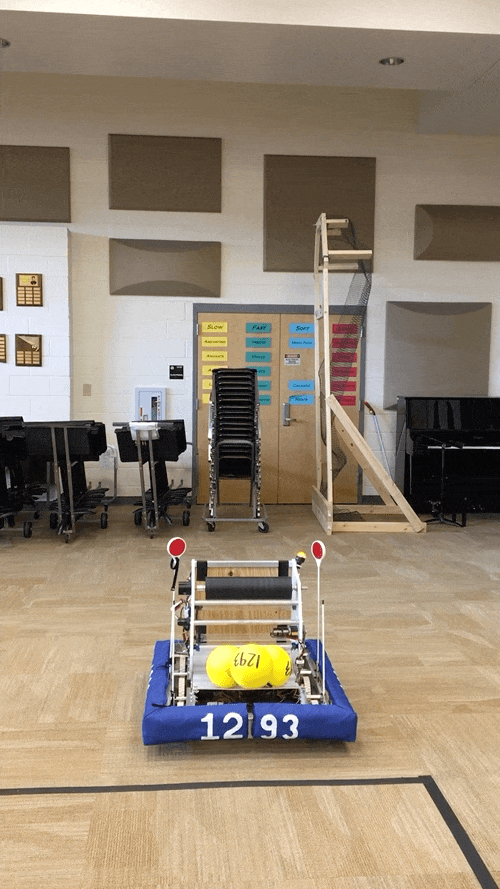 Meet Lori, the 2021 Pandamaniacs robot for the INFINITE RECHARGE at Home challenges.
Lori is our attempt to redo just the essential parts of The Pandalorian, our 2020 robot that seeded 8th of 63 at the Palmetto Regional. The Pandalorian punched well above its weight, but proved a handful for our pit crew. When schools closed a couple weeks after the event, the robot was in many pieces for a heavy maintenance session in anticipation of a rescheduled Smoky Mountains Regional. Once we understood what was coming for 2021, we had two options: try to reconstitute The Pandalorian in all its fiddly low-goal glory, or develop a new concept and pursue the high goals. We decided to do the latter.
Concept
While planning this out, it came to light that 1293 had never fielded a successful shooting robot. The 2006 robot became a defender, notoriously chopped down on Saturday morning for a lower CG. The 2012 robot finished dead last at the Palmetto Regional. The 2013 robot spent more time on its side than on its wheels and was outscored by its human player and thanked its lucky stars the webcast wasn't archived. With inspiration from teams like 1758, we knew this was the year to reach for the brass ring.
We also knew it didn't take a lot of shiny things to get the robot to shoot. Once some early-season developments came to light, it sort of became a sport to make this the lightest robot we could. The net result was a full-sized robot with a 59-pound inspection weight.
Drivetrain
Lori is running The Pandalorian's chassis. We did not see ourselves building a separate skills challenge robot with our available resources, so this is a full AM14U4 long chassis running the same wheels from Palmetto in the hopes we get some in-person events down the road. We jettisoned our six-Mini-CIM setup of the last two seasons and converted to quad NEO motors into a Toughbox Mini. It was geared a little too fast for the challenges at 7.31:1 (same as the Mini CIM setup that ran Palmetto), but it proved a lot of fun to try.
Later in filming our skills challenge videos, the drivetrain started squealing in an unpleasant way. We know it's hurt, but we got the remaining runs shot to ensure we got a full complement of challenges submitted. Tearing down the drivetrain to identify the issue will be a training exercise.
Shooter
It's been a bit of a trend on our team to make parts out of cutting boards from Sam's Club. They're cheap at $9, they cut easily, we can get more on about a half-hour's notice, and they've proven quite durable as intakes and hatch grabbers. While sketching out shooter concepts, it became clear that we could do the whole shooter out of two of them–a quite welcome development in a year where our biggest fundraisers for the robot budget were canceled. So we did. The whole shooter mounts to the chassis with eight bolts to brackets that fit right on the AM14U4's two-inch hole spacing, and it's tied together with AndyMark Peanut Extrusion and 7/8" round tube with tube nuts. The peanut is the anchor point for both the plywood back panel (robbed off our old cart topper) and the polycarbonate hopper floor. It works great for the light amount of compression we're running.
The shooter runs on four shafts. Balls are controlled by a Versaroller powered by a 775pro into a 4:1 57 Sport we had built up last year for an intake arm we planned to run at the Smoky Mountains Regional. (Both the 775pro and Sport are old stock from past kits of parts, and they did what we needed. Why not?) Past that, the balls are accelerated by two VersaRollers driven by a single NEO 550 motor in a 1:1 UltraPlanetary. The upper roller is geared about 10% faster, which helps separate the balls out along this path. This proved to be the most finicky part of our robot, as some assembly oversights led the Versarollers to rub against the plates until we got it dialed in with flanged bearings. Whoever it was at REV that decided to put current limiting in the SPARK MAX, give yourself a cookie.
Balls then hit the main shooter drum, a NEO driving a line of black 4" AndyMark Stealth Wheels. Despite being a full-width shooter, it accomplished an 18-point Interstellar Accuracy Challenge score on a 2D port on just the second attempt. For a robot that can only score from the target zone, that's as good as it gets!
Intake
One of our alumni saw our CAD renderings in early March on the team's GroupMe and asked "Where is the intake?" One of the seniors immediately clapped back "There is none! Intakes are for losers!". We did work on one a bit, but it was one of the things we jettisoned early on as we felt the pinch of bandwidth. (Thankfully, none of our team members have tested positive for COVID–but most of the students have had to quarantine two weeks since Kickoff due to classmates testing positive.) Balls are retained in place with garden netting tied to fiberglass rods, which was omitted in the gif. If we get in-person competition, we'll work on adding it back.
We had intentions of trying to make direct catches from the goal using garden netting stapled to our goal, then shuttling them back to the reintroduction zone in the robot. In practice, that proved a little too fiddly to do at scale so we modeled off of teams like 6329 and added a chute behind our goal to give our human players (two recreational athletes plus one out-of-shape 34-year-old) the best shot at success.
Outcomes
Well, we were a full-sized target zone shooter in the notoriously stacked Silver Group…and our 2020 driver and lead programmer graduated last spring. You do the math.

Despite a projected finish of 19th out of 29 in our group, we made several large steps in our development efforts and build process. We had only flirted with brushless motors in 2020 when they ended up on our dumpers, but this year all but one motor was a part of the NEO family. The code went from a melange of old cruft going back years to something simple enough that even I could figure out how to make edits and extensions. And while we definitely haven't wrung out the full power of the SPARK MAX controllers powering all the mechanisms, it does mean our programmers have a no-apologies platform on which to develop for 2022.
We hadn't sent out meaningful custom parts since 2019, and it's been a decade since we had sent out for an iteration of custom parts. We completed the skills challenges using our v2 shooter plates, and had CAD complete for a v3 plate that would've shed multiple pounds–one that proved too much for the X-Carve router we were bumming time off of. That process of iteration sparked conversations on what it would take to be able to do it in-house. Through a quirk of fate and a grant from the Irmo High School Education Foundation, we took delivery of a new-to-us Omio X8 router just last week. We're super excited for the opportunities to engage even more students in ways we couldn't dream of even four years ago when we built our frame, scrapped it for not being square, built another one, and it still wasn't square.
Appreciation
We could not have completed this robot to the level it reached without the help of many groups.
School District Five of Lexington and Richland Counties provided us with funding to register and the permissions to be able to meet in person as conditions in our shop and community permitted.
The Bands of Irmo provided us with our challenge space, allowing us to run on their still-pretty-new carpet for best performance. Considering how the robot was drifting during the barrel racing path, we clearly needed the grip!
FRC 3847, Spectrum, helped us out massively with some of their spares to get us over the finish line. We would not have been able to do everything we did without their help, and that's even beyond the magnificent resources they've shared with the world that have transformed our build process and let us punch above our weight the last three seasons.
FRC 2815, Blue Devil Mechanics, lent us time on their X-Carve to cut six shooter plates over the course of the season–including a fearless attempt to cut the heavily-pocketed v3 plates. This design was never coming together with the fabrication resources in our shop (well, until last week!), and having parts come together that smoothly saved us many labor hours. In a season with multiple key students having to quarantine and some students opting out, we were not getting the robot completed without their aid.
The Pandamaniacs classes of 2020 and 2021 were insanely stacked with students that I can't wait to follow as they go through school and begin their careers. I'm going to miss them all, and I'm thrilled that some have earned FIRST scholarships.
Videos
Power Port Challenge
Lightspeed Path
Bounce Path
Barrel Racing Path
Slalom Path
(Apparently I never uploaded the IAC video to YouTube, lemme work on that…)
Onshape Link
Enjoy.

Future
Our plan is to campaign Lori at at least one off-season event in the Carolinas, but we won't know details until FIRST announces their guidelines for the off-season. Fingers crossed!