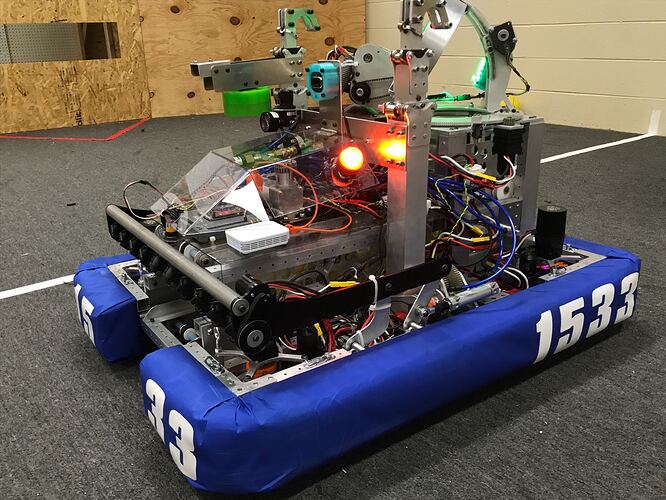 We had a lot of fun competing at the UNC Pembroke district event. Hopefully, we will have more opportunities to play this amazing game.
Edit (by request, here are the pertinent details):
Drive - Swerve (no surprise there), NEO drive w/ 8:1 to 4" Colson Wheels, NEO 550 Steering
Intake - pneumatic 4 bar intake actuation, 2" mechanum vectored intake driven by a NEO 550
PC Magazine - 5 ball storage with top/bottom belt conveyor
Shooter - 4" Fairlane Roller wheel driven by 2 NEOs, Adjustable hood turret (Did we put a turret on a swerve drive? Yes we did!).
Climber - two 4-stage telescoping climb arms with linear spring extension and rope/winch retraction.
Pat Sajak (a.k.a WOF spinner) - 4" Compliant wheels mounted on first stage of climber (motor and gearing TBD).
Buddy Climb - folding forks that deploy out of bottom (main climb is used to lift both robots once buddy is loaded).
If you have any questions, don't hesitate to ask.