Team 1787 is proud to present the official concept design of our offseason drivetrain.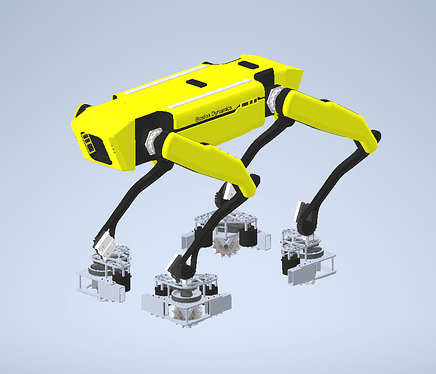 By tearing down a Boston Dynamics Spot robot, we were able to find out every part needed to recreate our own Spot robot dog :D.
Of course, a simple clone of the robot for our drivetrain just simply isn't enough for us (we are an ambitious team after all), so we decided to go all out and upgrade the drivetrain to have an MK4i Swerve Module on each leg for greater mobility.
After many long days and nights of discussion, we decided that even that isn't a mobile enough drivetrain for us, so the next logical step was to replace the billet wheel with mecanum wheels to truly let us explore every inch of the field.
As the drivetrain has legs, it is also able to function as a shooter of sorts as it can simply kick cargo really hard into the upper hub without need for an intake.
We are still finalizing some aspects of our drivetrain for a potential offseason robot, such as painting it orange, but I was wondering if anybody sees any negative aspects to the drivetrain design that may hinder us at offseason events this year.
Drivetrain CAD: