Hi FRC community! This year has been an amazing season for team 2383, but now it's time for the off-season! As our first project, we would love to present to you the Star Drive, our take on differential swerve! (We rendered pretty much all of these without the top plate on the module so you can see the inside)
Module Summary:
Dimensions: 7.3" x 7.3" x 5.7" (LxWxH)
Drive Ratio: 6.4:1
Point Ratio: 28.0:1
Powerplant: x2 Falcon 500
Wheel Size: 4"
Total Machined Aluminum Parts: (x3 1/8 sheet) + (x2 1/2 sheet) + (x2 84 -70 tooth gears) = 7 parts
Total 3d printed parts: x5 3/8 Thunderhex spacers
Weight: 5.5 lbs
Cost: $340 (excluding motors)
Drivetrain Summary
*Free Speed: 17.4 ft/s
Simulated Top Speed: 15.0 ft/s
Acceleration Sprint: 15.3 ft
Weight: 20lbs
Cost: $1020
To start off for those who don't know what or how a differential swerve module works, I offer a simple explanation. "Traditional" Coaxial swerve modules and differential swerve modules both have two motors. The difference is that coaxial uses a motor to spin the wheel, and another to point the wheel, while differential uses the difference between the two motor speeds to drive the wheel, and the average of the two motor speeds to point the wheel. The result of differential: a swerve module that uses the same amount of motors as coaxial with the ability to deliver twice as much driving or pointing force at a given time. This means improved power density from your modules at the cost of added complexity. Thank you for attending my TED talk.
Before we go into any further details, let me start with this; this design is not finished. We are continually iterating on the design, but as the 8th iteration, this is quite manufacturable.
Keeping our limited manufacturing capacity in mind, we developed a design that uses existing gears sold by VEXPro and AndyMark. This design weighs about a total of 5.5 lbsish according to Fusion 360 including all components.
It has a turning ratio of 28:1 and a drive ratio of 6.4:1 with two Falcon 500 motors as the power plant. This leaves our modules lighter than MK4i modules @ 6:3 lbs but heavier than WCP modules @ 5.2 lbs.
Credit to
JNV Design Calculator
The current module plate is designed to be mounted in a triangle configuration with three modules. Fusion 360 estimates the drivetrain will weigh about 20 lbs with a non-pocketed belly pan. This drivetrain gives us the ability to accelerate to a top speed of 15 ft/s @ 15.3 ft. (Free speed @ 17.4 ft/s but simulation top speed @ 15.0 ft/s)
Credit to
ILite Drivetrain Simulator
The module is equipt with 4-inch Vex Traction wheels, giving us superior ground clearance over 3-inch wheels.
In terms of cost, we are looking at currently $340 per module and $1020 per drivetrain (excluding motor costs and shipping). This is comparable to MK4i @ $365 per module and WCP @ $345.
*
Non-integer quantities signify part of a package deal or length of axle
This module requires very little advanced machining. Currently, the only part that will require special attention will be the modified 84 tooth VEXPro gear that needs a 70 tooth internal gear profile milled out of the center, as well as a bearing track on either side.
One of our tricks to reduce the complexity of the module is our completely different differential setup. A common approach is machined bevel gears, but that increases machining complexity. We went with spur gears. That's not special. What is special is the internal gears.
*
Two 14 tooth steel gears from VEXPro engaging both with themselves and the ring gears
The differential is formed with two 14 tooth steel gears from , which is engaged with the two 84 -70 tooth gears. This makes our entire differential powered by two stock spur gears and two modified ring gears.
*
18 toothVEXPro gear connected to the wheel
The wheel is driven separately from the mechanism by an 18 tooth steel gear. This allows the entire system to run on only three internal gears in total.
The second trick we use to decrease weight while using only two modified gears can be attributed to integrating X-Contact bearings into each contact component.
*
X-contact bearings can be found between the gears and plates
An X-contact bearing is different than a regular radial bearing. As cutting a simple circular profile into our parts would not be able to resist radial load, there is a possibility for gears to disengage and skip.
*
Radial bearing issues
Credit to
Principle Engineering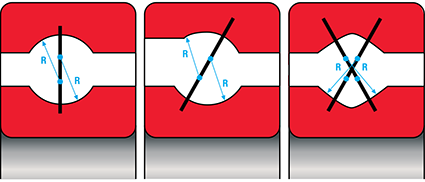 *X-Contact bearing is on the right
Credit to Kaydon Bearings Visit their website to see more!
We will mill out a v-shaped groove onto the gears and plates using a 90 deg chamfer endmill that will allow 190 1/16" steel bearing balls to run between components.
*
The raceway contacts the balls at a 45 deg angle
The X-contact pattern will allow the bearings to take axial and radial load. (We are also looking into ceramic bearings, but they cost 40x)
*
Modified 84 tooth gear VEXPro
*
Mounting plate for the module
This also has the effect of simplifying the number of plates we need to machine. In terms of CNC milling, we will need to machine four plates of 1/8 aluminum, two plates of 1/2 aluminum, and two 84t gears. The rest of the manufacturing will include cutting down axles and tube stock to length.
Personally, I have never worked on a project of this magnitude before, but I feel privileged to partake in this process. I also feel like the pressure is a bit lessened by Team 4143's success with their custom differential swerve at worlds.
If any of you have any questions, concerns, or suggestions, please feel free to leave a comment below or dm me or my team members.
I'll leave you with our CAD on Grabcad; let us know what you think!