They are just perfectly clear tubes - u don't see it but they are there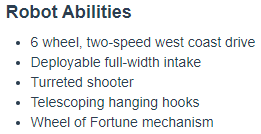 love the wheel of fortune mechanism
They stripped out the ugly ducklings for the reveal shoot!
Probably only connected on the bottom port. If they're still climbing with a winch, they might only need to actuate upwards before they winch down.
Better than having to fight a spring on a single-acting cylinder I guess.
What energy chain are you using on the turret?
Did you guys go #TeamAllBrushless this year?
There are falcons present on the shooter…
That's just a plug to prevent pressure from leaking
There are definitely brushes on the robot
Guess going sideways is still a waste of time
Anyone have any idea how the telescoping climber might be rigged inside? We have a similar telescoping climb, but the cascading rigging has just been painful.
They're HOF, so they go to worlds automatically. Still want to see one of those comments though.
I know they're HOF haha, that's what I mean. There's always the one person who don't recognize a team is either HOF or A&S.
i dont know what i love better, the fact that this team gave my team crucial parts years ago that we still use today, or the fact that when people ask where we got the part i can show them 254's robot reveal video
spinning the hopper maybe
My first thought was that it's for spinning some part of a spindexer. You can see brushes behind the intake rollers and I think these are being used to agitate a spindexer, like 1986 has done.
Beautiful robot … atrocious recorder playing