With 2023 being our 15th season competing in FRC, the Spartabots are proud to unveil our special branding identity for the year!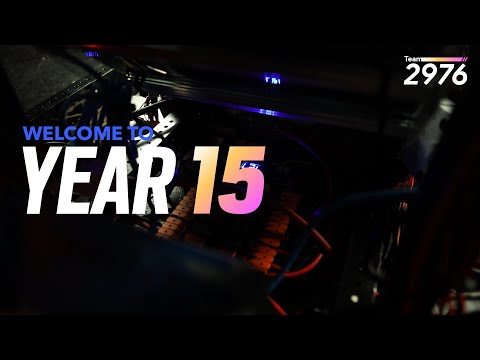 Loosely based off of our Brand 3.0 style, Year 15 branding has been a project in the works for more than half a year, and we wanted to really use it as an opportunity to let teams in on the process we take to drafting our theming pillars - hopefully this post will be of some aid to teams looking to refresh their brand or rebrand entirely. You can find our full branding guidelines document linked below, with small blurbs scattered throughout the booklet that outline our development process. For more detail, read on in this post.
Year 15 Branding Standards Document
The Initial Draft
Since our Year 15 brand is its own identity rather than an iteration of our existing brand identity, we started the process from the very beginning - including the pillar and themeboard drafting. The first consideration we make is the theme, which should always be a one-to-two word descriptor that can be used as an umbrella term for the identity's design. In our case, the themes were "boldness" and "forward." You'll see that throughout the brand, the design language largely reflects these pillars and will rarely stray away unless there's a very specific reason to do so.
With the themes picked, the next big courses of action are to make logos and a color palette. Our logo isn't changing in Year 15, so we only needed to make the "15 years of 2976" wordmark, which is a comparatively trivial task. Color palettes, on the other hand, are a whole other beast that we've struggled to tackle for many iterations of our design language. With Year 15, we moved away from online color pickers and builders, instead opting to develop our colors by hand using references and pure intuition. The first version of that palette looked like this: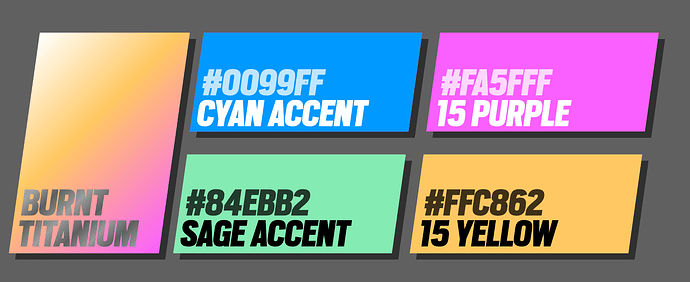 As we kept developing the brand, this would eventually evolve into the final palette you see in the branding guidelines, but the initial grid was enough to let us start working on what we wanted the bigger picture to look like.
Our team is known for our signature use of gradients, so we obviously couldn't pass on the opportunity to custom-develop a gradient for use in this identity. In our case, the gradient actually came before the color palette, with heavy inspiration from burnt titanium finishes in real life. Adding this into the color grid gave us (mostly) sufficient resources to continue in the development process.
Developing a Language
Just a few colors and gradients isn't enough to build a brand. We have 3 main criterion for good brand identities. They should be:
Identifiable
Simple
Defined yet flexible
The third point is really important here - over-defining a brand is never a thing (at least in our opinion), but you should be deliberate in what you define, and you better be sure that your definitions will work in a variety of scenarios. In our case, we have a team of talented designers that I trust, so we went with a more loose approach that gives the individual designer a little more liberty in where they want to take their products. This meant we needed a font, some design elements, and a couple of guidelines on how to put everything together.
Finding a design language that's identifiable and unique may take time - sometimes you just need to send it and see how it's received by your target audiences. We stumbled upon the Scout font family blindly, initially only using it for bumper numbers but quickly finding out in Year 14 that it makes a really clean yet energetic title font. Designing around the font would lead us to develop the 8 degree shear to match its italic variants. I think that in the case of the Year 15 brand identity, Scout was actually a really key anchor that brought the look together. This type of approach is pretty standard, but speaking from more of a personal view, I think it's important to be very careful when focusing on elements - avoid hyperfixating on something and causing it to become stale (I've made that particular mistake lots of times).
Putting it in Practice
Once our standards were defined, the work wasn't over. With initial drafts of branding standards done in August, we now needed to produce pretty much every graphic we think we would need during the 2022-2023 year between then and Kickoff. The reason for this is simple - a brand new identity can have serious flaws or things you never even considered, and you can't possibly find all the issues without making a ton of deliverables. We recommend taking your new brand and applying it to social media posts, re-editing old videos with the new style, and also printing some merch samples if you can (printify is a great website to do this with).
Once we had pretty exhaustively tested the production of graphics with the Year 15 brand, we were confident that it would be a robust yet elegant identity that would hold up to the rigorous gamut of mediums that our team puts our branding identities through, from photos to videos to merchandise. It's at this point when we start to consider marketing materials like the reel you see linked above, and all kind of other cool novelties like enamel pins that just give the special year a little more charm.
Final Thoughts
I hope that this little peek into our development process is a good resource for any teams looking to refresh or redo their branding as a whole - I'm always available on Discord (Astrapi#2334) or on CD to talk more about it if you ever have questions.
We hope you enjoy the unique look that our team will bring to the field in 2023 - we've got a ton of cool stuff planned that's sure to catch eyes.