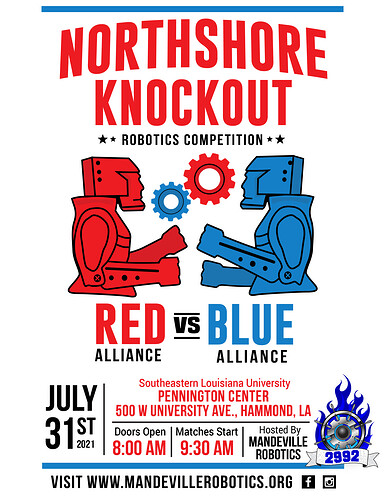 Team 2992, the SS Prometheus is proud to announce and open registration for the 1st ever Northshore Knockout off season event, to be held on the campus of and sponsored by Southeastern Louisiana University in Hammond, LA.
Event is a 1 day off-season event, Saturday July 31st. Teams will be able to load-in and practice Friday afternoon. A social event with entertainment and food is planned for Friday evening.
Registration is now open here.
Registration fee is $300 per team, with a discounted rate of $275 if paid by July 10th. We will accept secondary (or beyond) robots on a space available basis at the cost of $100 per additional robot. We are capable of accepting up to 30 robots at this event.
Further details, including event rules, logistics, and safety protocols may be found here.
We will update this thread and the above document as additional details are filled in.
We look forward to seeing you "on the carpet".
Team 2992
SS Prometheus
Mandeville High School
Mandeville LA USA