REV Arm
We decided to use to the REV ION hardware this year because we saw the benefit of using the MAXSpline shaft over a normal piece of hex at the rotation points. A 100: 1 or 125:1, still have to decide, MAXPlanetary drives a 24t sprocket on hex which drives a 48t MAXSpline sprocket fixed to each joint. We repeat this step for the upper joint making it use the same exact hardware. One of the main reasons we decided to use MAXSpline is because of how easily their system was able to be mounted on a ¾" deadaxle tube with a tube nut on each end and be able to easily come on and off the robot as shown here.
Also, when drilling a 1.375" hole into the box tube, the MAXSpline sprocket, plate, and shaft collar can all be clamped together using 6 bolts on the top and bottom section of the pattern when correctly lined up.
VEX Arm
As mentioned before We decided to make a prototype of this arm with materials we have in our shop, which were mostly composed of VEX parts. In order to convert this from REV to VEX, we changed the MAXTube to just standard VersaTube. This will incorporate a VersaPlanetary with a similar 100:1 gear reduction. We continued to use a 48t sprocket but unfortunately, we had to a 22t sprocket instead a 24t so our ratio won't be 100% symmetrical, but to attach them onto the tubing we used VersaBlocks because of the convenient hole patterns they had.
Earlier this week we started manufacturing parts for this proto arm and just today we concluded our assembly of it. In the next coming meetings, we plan to assemble a drivebase along with a prototype claw and make it into our practice robot for programming to use or drive practice for later on when programming has the actual robot.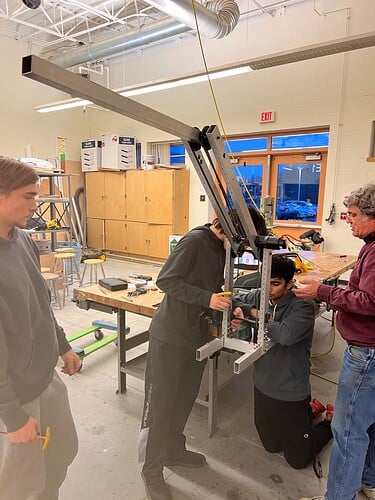 Fully Assembled Arm Video
Actual Drivebase Update
We also assembled all our swerve modules we will be using this season