Due to Monday being Martin Luther King Jr day and the team not having school, we decided to have a longer work day to help make progress toward our Alpha robot. We started the morning but splitting the students into groups, one group of students making the driverails, another group of students making the bellypan, and another group of students preparing the electronics to go onto the bellyplan. Once the bellypan and driverails were made, we assembled our very first chassis of 2023.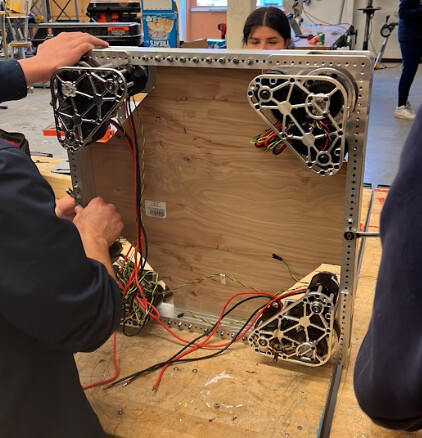 After we mounted all of those together, we then added the arm to this assembly. It did require some disassembly and reassembly due to having to drill all the bolt holes by hand but we did this not because we wanted to finish the job but because we wanted to finish it correctly.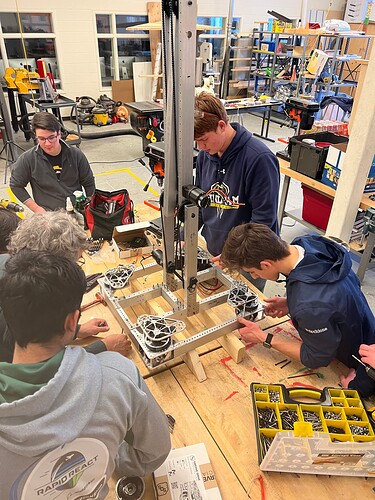 Then after all these were put together, we printed some 1:1 drawings of sections of the electronic mounting which helped ensure all of the holes on the electronic lined up so it can be clamped down securely. The image below shows all of this put together and as seen next to the cone, this robot is very small. (The battery isn't in the correct state right now because the crossbar was mounted incorrectly but essentially the battery would lay horizontally flat against the bellypan in that position)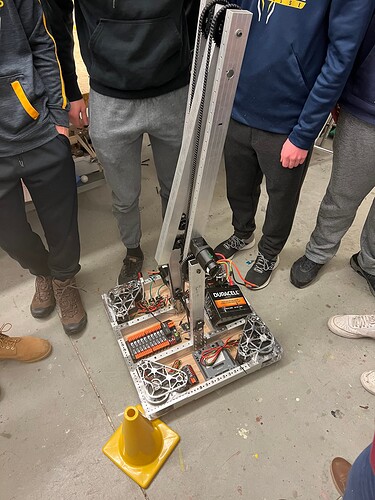 Here is a video of one of our beloved mentors showing the tipping point of the bot in its current state. Currently, it is missing a battery and a claw and our bellypan would be made out of aluminum so our actual tipping point won't match 100%.
Having our tipping point at such a steep angle and not falling over is very helpful because when the bot is on the field we know that tipping won't be as much of a problem for us. We aren't saying it won't be a problem, it will just be less of a problem than previous years.