Team 3737, the Roto Raptors, are pleased to announce the release of our first swerve drive system called DinoSwerve.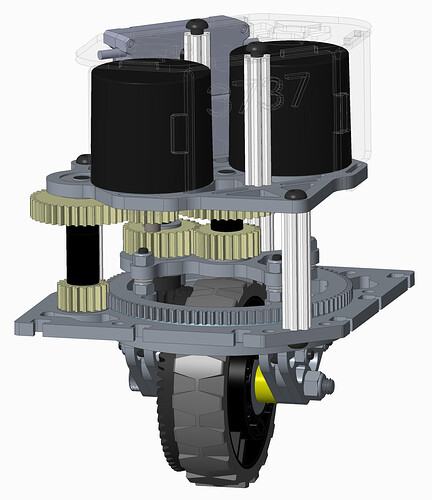 See our first test:

Details of the CAD, BOM and code here:
https://drive.google.com/drive/folders/19o_C_qh2xbkcD5oL0Gawc8-v_9KpBJwZ?usp=sharing
SPECIFICATIONS AND FEATURES
Weight:

Net weight: 3.9 lbs without controllers and motor guard
Gross weight: TBD lbs with motor controllers and guard
Low center of gravity

Height: 8.75" with controllers and motor guard
Motors: 2 brushless NEO motors with SparkMax controllers

Controllers are mounted within envelope of mechanical swerve assembly, effectively de-populating main electrical board of eight controllers.
Steering motors are powered by 20 amp PDB terminals leaving four 40 amp terminals free for other devices.
CAN bus controlled for simple wiring

Cost:

Utilizes integrated NEO encoder in steering motor rather than a separate absolute encoder and complex additional gearing. A simple low cost magnet and hall-effect sensor in conjunction with the NEO encoder provides accurate and repeatable wheel direction.
Low cost Delrin balls used for turntable vs high cost bearing.

Robustness:

Integrated but optional Lexan motor guard
Three plane fixing for rigid mounting in chassis
Extensive use of grade 12.9 socket head screws
Extensive use of Nylock nuts

Flexibility:

Designed be mounted at various heights within a chassis
All swerve assemblies are identical and may be placed at any corner
Three speeds are possible by swapping just two gears (10.06 ft/s, 11.7 ft/s, 13.69ft/s free speed)
Each assembly is identified and configured entirely in code (controller I.D number and rotational offset)
Independent adjustment of bevel gear and turntable height

Accessibility:

All moving parts are visible for inspection and lubrication without any disassembly
All gears are accessible and replaceable by removing four fasteners (except 94T gear) making speed change or maintenance quick and easy.
All parts are accessible and removable without removing complete swerve assembly from chassis
Complete swerve assembly can be quickly removed from chassis
Rapid and simple wheel replacement
All controller ports are visible and easily accessible

Fasteners:

Almost all fasteners use

#10-32

threads for common nuts and tools.
Extensive use of socket button head screws for clean appearance

Innovation:

Certain custom parts manufacturable without use of a mill through inventive use of waterjet and fasteners.
Turntable bearing made from alternate ¼" and 3/16" diameter balls to simulate a 'race' (preventing adjacent balls from opposing rotation while touching each other)
Common gear sizes for simplified spares inventory
Rotation sensor implemented with no extra moving parts (hall effect and magnet)
Questions are welcome.