Team 4265 The Secret City Wildbots is as excited as ever to release the fourth iteration of the Dragonfly drive train we pioneered in 2014!
In this iteration we focused a lot on reducing weight and the size of the Butterfly Modules by using 1.5" wide Colsons instead of 2" and removing excess supports we deemed unnecessary.
Another big change is transitioning from belts to chains. We did this because although we gain weight, we also gain reliability as we broke many belts while using the previous design.
Some minor changes include a focus on maintenance ad making sure we can access and replace all critical components easily. We have also implemented a better bumper mounting system with airtube.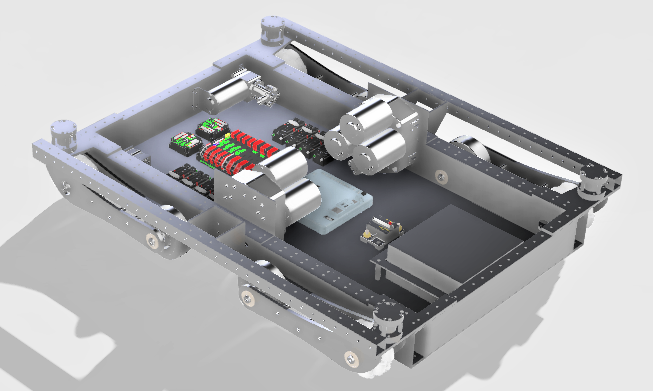 Links to additional rendering angles:
Side: https://drive.google.com/file/d/12I-gyQYIWF6hqMZdw19alW6LT0-E_JJ8/view?usp=sharing
Top: https://drive.google.com/open?id=1D4zpMqFS9Aa0GLW_BK5fLHbwQUeFUOhx
-Adam