And we thought it would be too complex for anyone to copy.
This is great. I love it!
Just wondering, what's the gear ratio on the swerve modules?
Sorry just saw this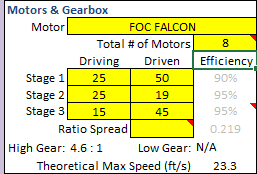 Did you guys make custom modules this year?
They may have modified the Mk4is. The second gear stage they used would work there and their bevel gear setup looks the same. Not sure how they could've gotten the initial reduction off the motor pinion though so i may be wrong.
Yeah, I'd assume they remade that top plate to adjust the spacing of the motors from the gears the pinions mesh with so they could slide in a 25t.
I had a strong feeling there was more than 4 motors accelerating your robot.
I bet after our order for L1 came in days after buying L3s
Yea and that's probably how they added the extra falcon for their drive.
three motor swerve viable???
Do y'all feel like you're using your modules to their fullest potential or do you think there is still more you can pull out of them in their current configuration?
We are incredibly battery limited with our setup. Current limits are put in place not save the motors or prevent wheel slip but to get us through a full match with no brown outs.
When I saw the 3 motor modules on 4414s insta it was a huge woah moment. The team tore that image apart for 10 mins LOL
Wow! 23.3 is crazy fast… We are geared at 24 ft/s, but realistically achieve around 22. I love how zoomie your robot is though! Mad respect.
I bet! We tried going up to 19ft/s free speed on NEOs but we would not be able to get through a match every time without starting to brownout when our arm, wrist and drivetrain would move simultaneously, dropped it down to ~17.3ft/s and are able to get closer to 4-5mins usually. On a very good MK battery fully topped off we can fill the grid on our practice field before browning out so determined that gave us enough.
Based on the curves I think the Falcons give a significant boost to efficiency when pulling high current vs the NEO… hopefully next year we will get our hands on some.
I see you are running FOC in the snippet up higher, did you all see significant gains by using FOC on the drivetrain?