Team 5254, HYPE, is proud to reveal our 2020 robot, Clarence.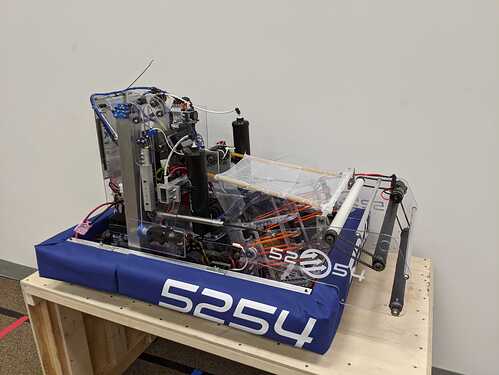 A quick summary of the robot:
Drivetrain:
4 NEO drivetrain geared at 14.3 fps on 6x 6" colsons for around 144 lbs of tractive force
WCP SS gearbox
Shooter:
2 position (pneumatically actuated) hood for wall shot and initiation line / trench shot
4" Fairlane wheel shooter geared at 1:1 on 2 NEOs
2" Fairlane accelerator wheel geared at a 6:1 reduction on a NEO 550
Intake:
Intake rollers made using 3D printed hex hubs into PVC pipes, wrapped with F4 tape
Intake is driven by a 775 Pro at a 7:1 reduction
Top roller effectively acts as a clutch
Hopper:
Derived from the common V-belt hopper setup
One side uses a 9:1, other side uses a 21:1 reduction, both driven by 775 pros
Different speeds cause Power Cells to rotate around each other, preventing jams
Climber:
3 stage telescoping arm driven by a NEO 550 at a 49:1 VP reduction
Deployed hook for climbing winched by a 775 Pro at a 100:1 reduction by an AM 57 Sport
Code:
Open source: https://github.com/FRC5254/FRC-5254-2020
Automatic shot count detection
If the season had continued, we would have spent time investing on automatic hopper unjamming in code (by monitoring current draw)
Uses WPILib's trajectory generation and Ramsete follower for autos
We are currently registered for the Finger Lakes and Central New York regionals, and we hope to be able to play someday. We are a small team (11 kids) from a small town (~2000 people) and are very proud of the robot we have built this year. However, we would not have been able to accomplish this without inspiration from and/or direct assistance from these teams:
 20   341  2826
 27   401  3476
 33   469  3538
 95  1538  3847
111  1551  4414
125  1986  4481
148  2102  4607
217  2168  4613
254  2363  5406
319  2659  6135
340  2791  6328

We thank you for all of the resources published over the years and great robots from the past to learn from and take inspiration from.