We proudly present our latest robot, 'Ekolu! ('Ekolu means "three" in Hawaiian, as this is our third competing robot.) We pulled off what we believe is a true, low-resource but effective robot build that could be built by any team with a small budget.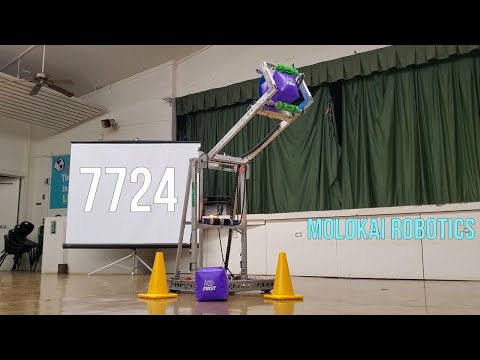 For this season, our team managed to not only meet almost all of the goals we set, but actually surpass them. Here are the goals we set and if they were met or not.
Our robot will be able to:
Traverse sideways (didn't meet, need to learn mechanum or swerve in off-season)
Have a low COG for driveability and "parkability" purposes (met)
Score quickly on level 1 and level 2 nodes (both cones and cubes), possibly the level 3 cube nodes (met)
Have its arm and intake stowed away within the frame perimeter (met)
pick up cones and cubes from the double sidestation (met)
Our robot is also capable of:
picking up and scoring cubes off of the floor and scoring them at any level
picking up and scoring cones off of the floor and into the hybrid nodes
The biggest change from our initial design was the use of a roller intake instead of a claw, as we realized that we wanted our robot to be able to, "touch it, own it".
We would like to thank a few special people for helping us pull this off.
Firstly, we would like to send @Owen_Busler a HUGE thank you for helping us through the programming process. Owen spent hours helping us from a completely different time zone. Thank you Owen!
We also would like to thank Kalani High School Robotics for saving us and getting a roborio when ours died (which meant sending it over on a plane to us), Iolani Robotics for also helping us with programming, the St Louis Crusaders, and Maui High School for helping us with various parts of our robot build process!
See you at the Hawaii Regional!