Hey CD,
How many teams have custom teams licence plates?
My team recently got our new team licence plate for our new trailer. We were really happy with how it turned out, and were wondering how many other teams, team members, or mentors invest in getting a custom licence plate with their team number on it.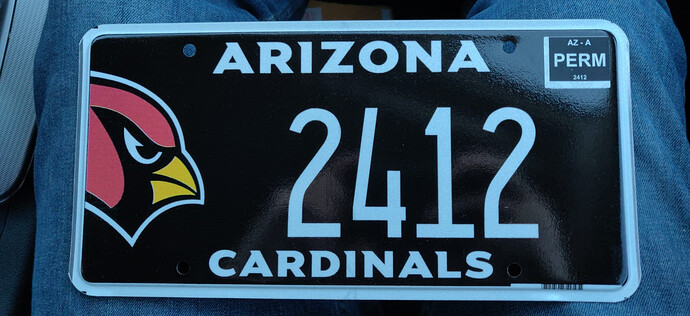 You'll notice that we got the Arizona Cardinals addition. Their logo has a distinct resemblance to our team logo, the black matches well with our colors, and it wasn't any more expensive! We found out we are allowed to cover up "Cardinals" so we will be water jetting a custom cover that has "Robototes" laser cut into it.
A word of wisdom, if you have the ability to, always register your teams trailers in Arizona. Its only a one time payment of $50 for a non-custom plate, compared with $100 in many states every year. Additionally, its a one time payment $150 for a custom plate like above.
Anyway I would love to see what other teams have custom licence plates, or if you decided it was too expensive or whatever.
We have our team licence plate on a team trailer/vehicle.
A mentor has a team licence plate.
A student has a team licence plate.
A parent has a team licence plate.
We don't have a team plate, we never thought about it.
We don't have team plate, its too expensive.
We don't have one, we never got around to it.