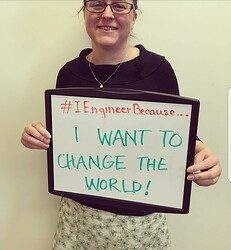 Today is a bittersweet day for FIRST, particularly FRC. Today is Jamee Luce's last day working at FIRST HQ. Jamee has been the FRC Team Advocate since 2015. Jamee is a close personal friend of ours so we already knew how giving and thoughtful she is, but getting to see her fulfill that role for ALL FRC teams has been amazing. Times right now are tough, but I'm confident saying that all FRC teams have a brighter future because of Jamee.
Frank Merrick helped me out with this post by sharing some of the amazing accomplishments Jamee helped to lead for FIRST. Those reading this may not have realized Jamee was behind so much!!
Jamee led the game design team that completed the 2020 game Infinite Recharge (and that in turn is the basis for the not-yet-released 2021 game)
She drove the effort from within FIRST HQ to end Stop Build Day. This was a multi-year task
She also drove the expansion and adoption of Quiet Rooms FRC-wide, working closely with teams who were championing it in the community
She was also a key touchpoint within FRC for international teams from countries with few teams who might not otherwise have a 'voice' (like an RD)
And beyond specific accomplishments, Jamee was the voice for the teams within FRC. She listened, she understood, she cared, and she made a difference.
Jamee was amazing at this role because she knows what it is like to "do" FRC. She's been a teacher, coach, lead mentor, strategist and robot builder. She knows what it is like to fundraise all year round, navigate a registration process, bring a team to another state to compete and anything else that goes with running an FRC team. Jamee is an incredible listener, and this skill made her ideal for being the Team Advocate. She is the embodiment of pure work ethic and one of the most passionate people you will ever meet. This is why she crushed it.
For the NUTRONs, she has always been someone that we can count on to help us out. Whether it be when our robot seemingly doesn't make it to Championship or simply asking a clarifying question about payment deadlines, she's always been there for us. We're spoiled to live in New England because we take for granted the ability to interact with many of our key contacts at HQ. In her role as FRC Advocate, the rest of the world has gotten a glimpse of how great Jamee is. I'm confident we'll still see her at plenty of events and on the playing field, but I'm speaking for all teams here that it is tough to lose such a strong partner in HQ.
Please take a minute and share a Jamee story below if you can, big or small. I know she will read them for years to come as a reminder of the great work and times she had in this role!!!
Thank you Jamee! <3
Brandon, Kristine, Frank, The NUTRONs, HQ Co-Workers and FRC Teams everywhere…