I think his name is Kenny.

I caught a picture of one of the Montreal rookies when I was at the Montreal regional this past March.
Yes, you guessed it; they built Plowie.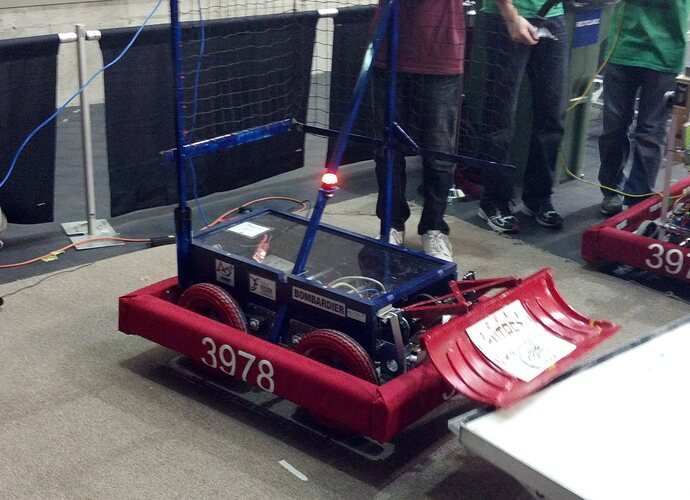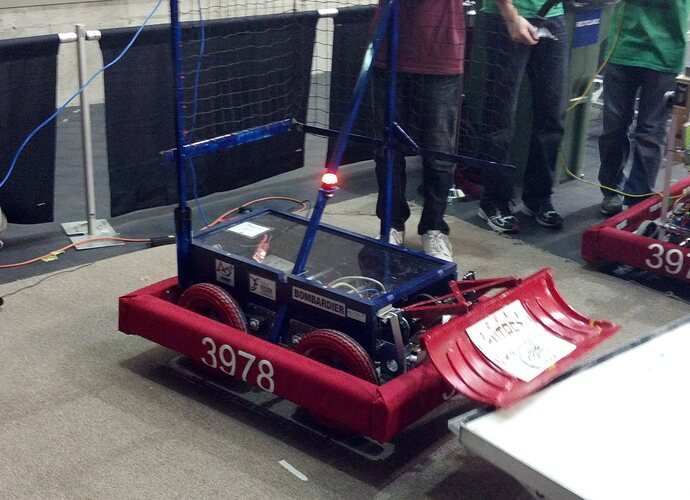 I've always called him (her?) Dozer.
I've heard both "Plowy/Plowie/Plow-E" and Dozer.
Dave would know for real, but I'm pretty sure it's Dozer.
Yup, his name is "Dozer." Always has been.
-dave
.
There you have it, y'all.
Dozer rocks.

Dozer 2005-2010, need to update the video.
All that robot did was leave red and blue skid marks all over the field and get itself disabled for doing that.
So much for my reference to South Park's Kenny. :rolleyes:
Well, he doesn't always die, he just always falls or something falls on him

Dozer has not read the instructions that came with his medications. To wit: "do not operate heavy machinery." Perhaps its misadventures are due to inadvertent sleep. It keeps dozing off.
Is this another pun thread I see coming

Well, this is Chief Delphi …
If the puns bother you, just plow on through.
If you ignore the field damage it caused, it was pretty cute though, plus it was bouncy!
They were also one of the better bridge manipulating and balancing robots at the regional.
For as long as I can remember, my team & I have always called him "Dot Bot", but Dozer works too =)
I felt this was the right thread to add this to…
For our promotional and testing projects we created what we call our "Universal Robotics Platform."
The URP was taking form to be a large, fast, and off road capable machine that we could use for football games to cover the field quickly while carrying a large payload (think t-shirt cannon/s). As it took it's final form, we naturally added a few blue panels and some eyes and got this: http://www.youtube.com/watch?v=kS-UB_r2Bqo
"Dozer"
36" X 24" X 18"
195 lbs
Optima Red Top Battery
Four CIM Drive through CIMple Boxes
Geared for 32 ft/s to clear a football field in a hurry
Programmed speed defaults to 50% and requires driver input to reach full speed
10" Pneumatic wheelchair tires to handle offroad situations
Servo driven eyes
Almost FRC legal… and we still have to make his blade silver.
This is the best reveal I have seen this year. That is wonderful.
I love it… a real Dozer…
He/She needs to come to St. Louis… make friends with Wall-E