With districting becoming more widespread and teams from overseas coming and going, it's always nice to have a visual of exactly where each team is.
What is it?
This map was created using TBA's information in ArcGIS. It shows all the teams that existed in FRC, discontinued or not. If they had no location, name, or number (see below), I just removed it from the sheet.

This image shows two teams with a number and a location, but no name. I don't know why it's there, probably due to bad data recording pre-TBA. Both of these were removed.
What do you do with it?
Using this map, you can get a reference for what teams are where; but more importantly you can add more sets of data, called layers, to the map that allow you to see the correlation between them (see below).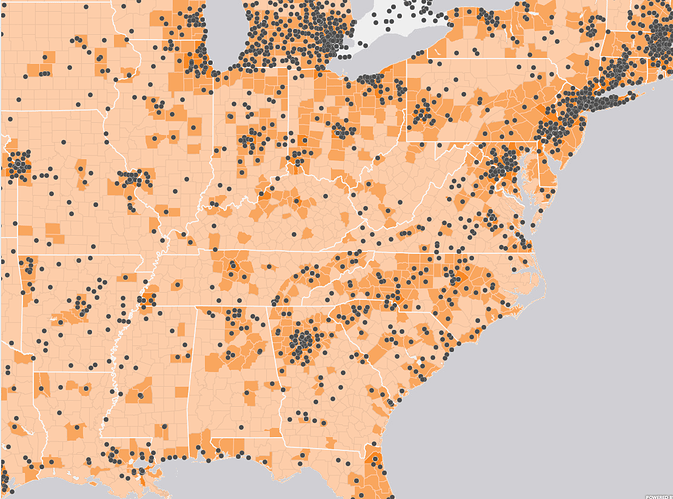 This map shows population density along with the FRC teams on the east coast, which shows that teams tend to be in places of higher population density.
How can I make maps too?
If you'd like to see the map, the link is provided at the bottom of the post, along with the excel files of all the layers. Once you have the map, you can either add your own layers, or you can look up pre-existing ones (see below).
Why can't I find something?
If you cannot find a team you are looking for, that may be because ArcGIS will represent multiple dots in the same place with one (see above). Otherwise, use TBA locations of teams in the search bar, as all the locations on TBA and on the map are the same. If that still isn't the case, you may need to look in the excel files to find your team. If it isn't there, I might have screwed up. Speaking of…
Reporting Errors
If I made a mistake and accidentally cut your team from the set somehow, let me know and I can update the sheets and the map. If you'd like to search for mistakes, look for countries in the wrong lists (i.e. a Canadian team in the USA list).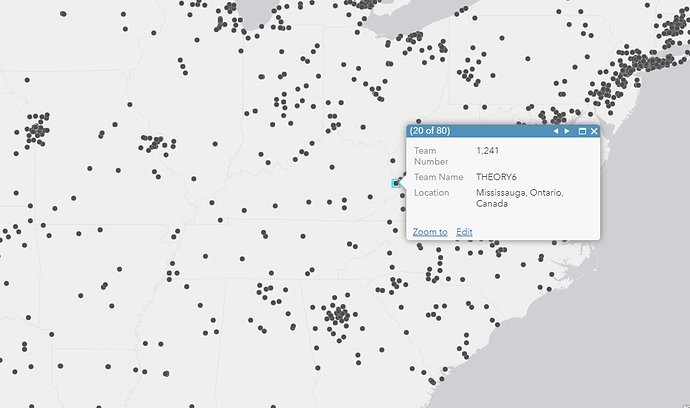 I didn't know Kentucky was such a hotspot for robotics; I then realized that some Ontario teams were appearing in the Pike of Kentucky for some reason. From then on, I had to separate teams by country.
To be completed in the future
I have some features in mind that I'd like to add. If you'd like to help out and do them yourself, here's a list of some ideas:
Separate lists into years for comparison (each a different color)
Separate active teams from inactive (folded) teams
Show Districts
Show events (Regional and District)
Resources
Link to map:
https://arcg.is/0C1Ob8
Link to Excel sheets:

Note on the naming of the files, if there is a letter followed by a number, the data points are in the USA, and the segmenting of files in general is due to ArcGIS only accepting files under a certain size. The name of the spreadsheet is due to it being the second iteration.