Singapore American School FRC Team 4817 is the first FRC team in Singapore, and while this season has posed some interesting difficulties (There's no such thing as Home Depot in Singapore) we are proud to present the Orchid One, a robot, that, while a bit rough around the edges, represents 5 weeks (Our KOP was late) of hard work, creativity, and lots of learning.
I apologize for the poor picture staging. Other angles are available if requested.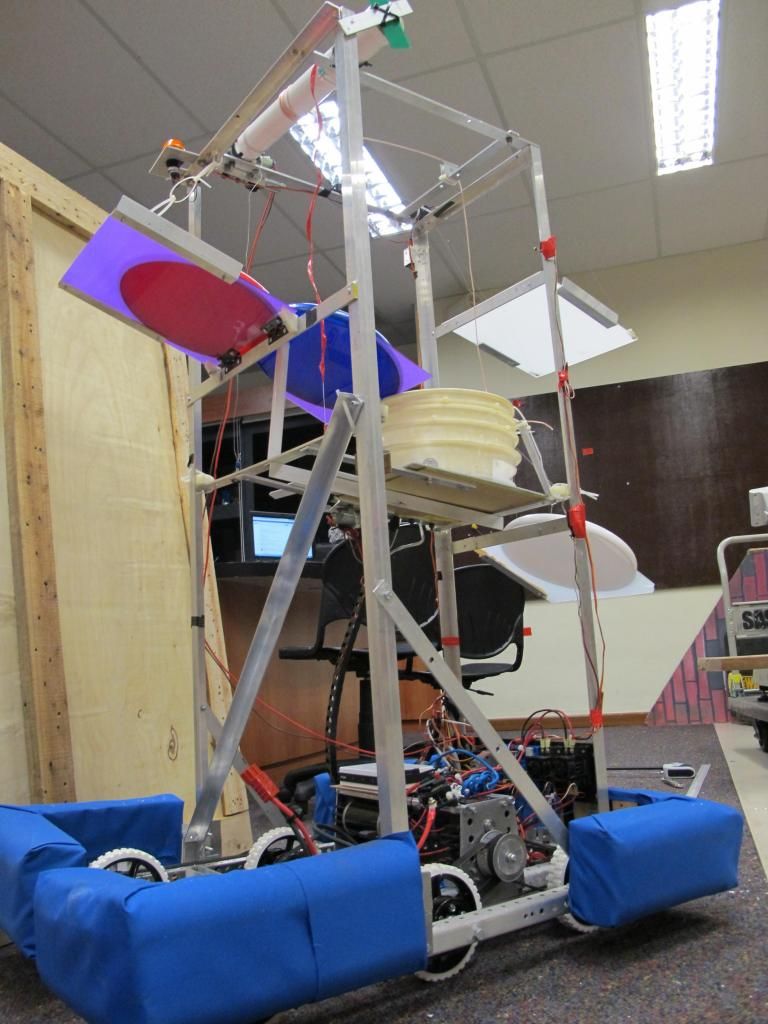 Specs
Height: 54"
Weight: 77 lbs
Hopper
4-disc capacity bucket hopper
Elevator lift driven by window motor
Ejector driven by window motor
Two levels to output at low and medium feeder heights
Accepts discs at medium level
Drivetrain
Standard 2-CIM Narrowbody configuration
KOP HiGrip Wheels
For our design, we saw the effort it would take to build a dependable climber or shooter, and were cognizant of the fact that were we to try to do either of those, we would likely lack the infrastructure and expertise to do them well. In addition, we had no ability to build the field elements that those objectives would require (the kit of parts' meager selection, and the fact that FIRST choice shipping is a heck of a lot of money to Singapore, didn't help) and would not be able to test. So, we went with a design that did not attempt to be a protagonist, but rather a supporting role. Orchid One can act as a helper to a shooter without a pickup, and so can effectively expand the capacity of a robot to 8 discs rather than four. The two feeding positions mean that we can be flexible, and accommodate the needs of our alliance partners. We can also act as a feeder to teams that want to climb the tower and dump but don't want to take time going to get discs from the feeder station, or are unable to.
Team 4817 will be attending the GTW Regional.
Comments and Questions are welcome!
Note: This picture was taken as we readied it for shipping; thus, the cables are slack and the hopper is tilted because we zip-tied it to frame points. That is also why the intake chute plates do not line up.