Following Galaxia traditions, team alumni showed up to kickoff this year only to contribute nothing to game analysis and instead brainstorm climber ideas. During this however we came to an important question - is doing the traverse rung actually important or could you do with just the high rung? The importance of this is how likely you are to get a RP, but what actually was the difference?
It wasn't before long we realized we can quantify this difference with simple, high school level probability. Thus, this calculator was born.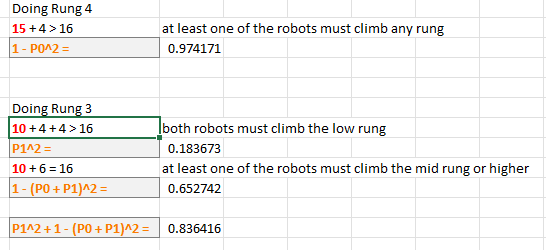 This is the full calculation along with results for the Israel district. For us, it seems doing the Traverse rung raises the odds of a RP from 83% to 97% in any given match. The way i calculated this is by estimating the probability of every team climbing to any rung or not at all. Since Israel is a small district and i happen to be familiar with all the teams i simply guessed what each team would do and calculated probabilities from that (i am not publishing that part of the spreadsheet so as to not offend any teams i might have underestimated). For bigger districts or regions you can simply estimate. Obviously, this makes it all educated guesswork, but it should still give a more accurate view of whether doing the Traverse is really important in your region or if you could do with just the high rung.
isTraverseRungWorthIt.xlsx (14.8 KB)
This is the actual spreadsheet for anyone interested.