Team update 13 included this paragraph regarding what is and isn't allowed in the challenge space.
If I'm interpreting this correctly, this saying that the only physical elements that are allowed to be in the 15' x 30' challenge space for the POWER PORT Challenge are the POWER PORT and a LOADING BAY or LOADING BAY mockup.
Many of the clips I've seen from the POWER PORT Challenge include some sort of funneling system adjacent to the POWER PORT. In the 3D representation of the POWER PORT, they are most often in the red boxes I've put on the image below.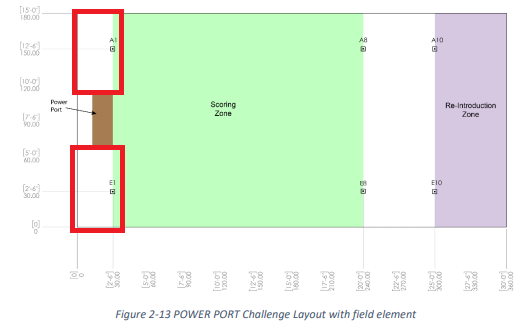 Are these funneling systems "physical elements added within the challenge space for the purpose of aiding the robot or drive team" or are they included as parts of the POWER PORT or LOADING BAY? I don't know, but I would love to get some insight and clarification on this. I made a Q&A about this so hopefully some clarity will come soon. If it is deemed that these types of funneling systems are illegal, there would be a lot of great runs invalidated.