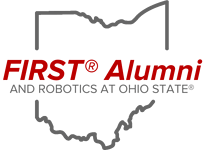 Hi everyone! We represent the
FIRST Alumni group at The Ohio State University
and are approaching our 25th year in existence (founded in 1996)! If you are a current Buckeye and are interested in mentoring a local
FIRST
robotics team for college credit, consider enrolling in our Mentorship in Robotics course sequence! We have partnered with our College of Engineering and the
FIRST
Education team to make this sequence possible.
Course sequence details:
Autumn 7-week course (ENGR 2194, Class Nbr 36791): Students will earn 1 credit and learn both mentorship and robotics fundamentals from both the course instructors as well as senior OSU students engaged with FIRST. This class must be taken as a prerequisite prior to mentoring a local robotics team for credit. Click here to take a look at the AU20 ENGR 2194 syllabus.
Spring 14-week course (field mentorship): Students can earn 1-3 credits every Spring semester for mentoring a local FIRST robotics team. Generally speaking, for every 30 hours mentored, a student will earn 1 credit. This course is repeatable up to 4 times. Please note that the Spring semester class will not be offered this in 2021 due to the COVID-19 pandemic.
For a little background on the course sequence, the Spring semester course has been offered since 2003. The Autumn semester course will be offered for the first time beginning Autumn 2020 with the goal to teach fundamentals to both recent FIRST Alumni and non-FIRST Alumni in order to provide quality mentors for our local FIRST teams.