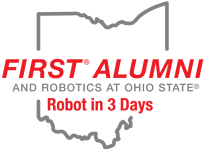 Hi everyone! We represent the FIRST® Alumni group at The Ohio State University and are looking forward to an exciting first year participating in Robot in 3 Days and providing valuable resources to both local teams and the ChiefDelphi community! We will also be competing at the second annual FIRST Alumni Collegiate Competition on February 2nd.
We have created our project team based on these specific goals:
Encourage continued involvement in FIRST , thus strengthening the presence of our student organization within the FIRST community by filling volunteer and mentor positions across the state of Ohio
Focus on prototyping, documentation, and strategic analysis to present to the FIRST community
Allow members to gain project experience and develop individual engineering skills
Website: https://firstrobotics.osu.edu/ri3d/2020
Twitch (live stream): https://www.twitch.tv/firstroboticsosu
YouTube: https://www.youtube.com/channel/UCRsCDiSIQzP49JnIHDwDO_A
GitHub: https://github.com/firstroboticsosu
Facebook: https://www.facebook.com/firstroboticsosu/
Twitter: https://twitter.com/firstroboticosu/
Instagram: https://www.instagram.com/firstroboticsosu/
Constant updates, documentation, and whitepapers will be released throughout and after the 72 hours and will be provided on this thread and on our website. Let us know if you have any questions!