Hi there, in this brief post I would like to share a recent project I took on mostly for fun, but also to help some of my teams students have a more enjoyable experience working in the pit.
The Pit Viper is a rigid body, pocket or belt mountable, tool holster for pit use. It is designed for easy access and zero gravity functionality. That means that every tool latches into the holster with a satisfying click, locking it into place and preventing it from escaping in the case of bodily inversions and other common pit phenomena.
Before I dive into more detail on the Pit Viper itself, let me share a few photos and videos of it in action.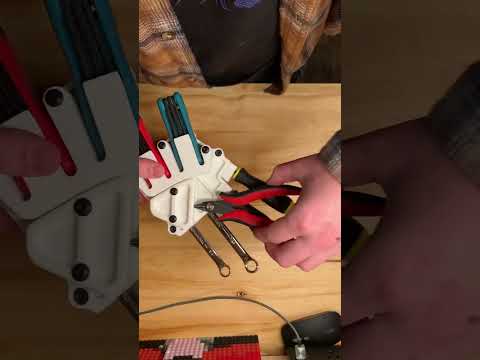 The Pit Viper can currently BITE onto the following tools…
1/8 ball allen
5/32 ball allen
3/8 wrench
7/16 wrench
imperial sized multi allen
metric sized multi allen
flush cutters
The model I'm sharing with you now is just the 3D printed prototype. I do plan to waste some time making this thing out of the highest purity, aerospace grade, 6061-T6 aluminum available from my local dealer. When I do Ill try to make another post here.
Although this project has been really fun to pursue, I do hope it will be of some real use to our kids and make working in the pits just a little easier. If anyone happens to come across this post and is interested in it, I will also consider sharing the CAD models and BOM in the next post.