here is the battlefield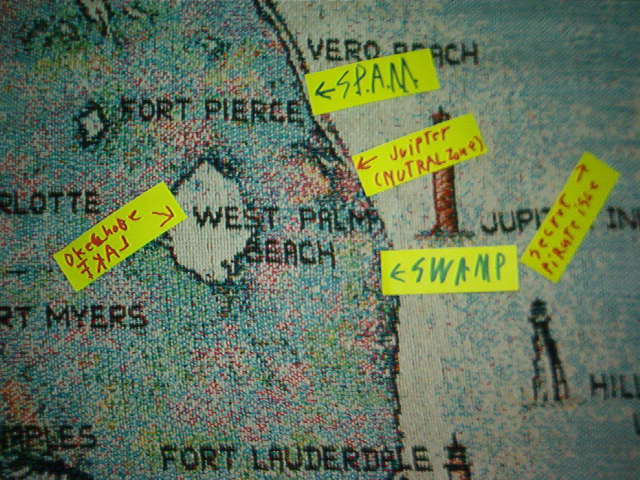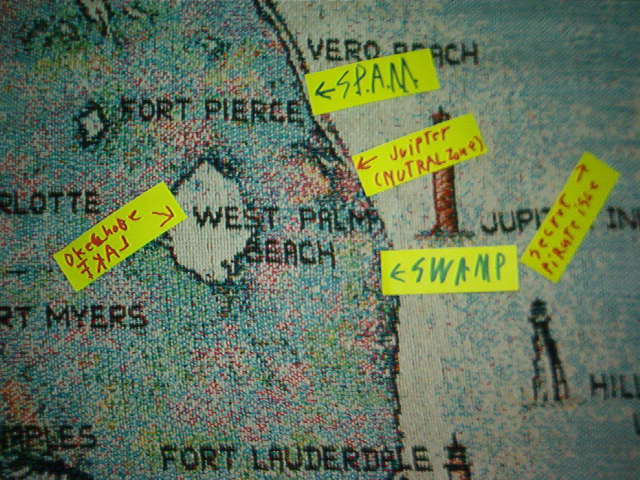 lol, I like the detail on that map.
I WANT MY BUTTON!
Ill have my people call your people Kid!
Is that a map on a quilt?
Cause you know what the say about quilts with maps on them…
"Hey…that's a map on a quilt, isn't it?"
it would appear to be so…
i'm curious as to whether he sleeps on top of florida, or under…
gotta love the post-its
btw…whats on the secret pirate isle?
Tytus, you placed us uncomfortably close to Fort Pierce. Eep.
Tytus, you placed us uncomfortably close to Fort Pierce. Eep.
especially considering if you put your finger at the top of okeechobee and draw a straight line to the east coast, that is Jensen Beach… and we are just south of Jensen…
tytus, you're fired
but i luv you anway… ::muah::
You could just move the frame down a liiiiiiiittle bit and you can have miami in there, and hey since im sure you are trying to to keep costs down you can use one sticky for 212 and 168, we are only 4 (4.1 miles if you are picky, from my parking spot in school to the parking lot at nmb i checked it one day) miles from eachother.
No I dont sleep on it
No i dont sleep under it
I know its rong
U Don't need to Know whats on secret pirate Isle
and i Love u 2 teresia
How was the bowling thing? or did you not have it yet
The bowling mission was accomplished.
Pictures are coming shortly.
…we [gracefully] lost.
But rallied on the DDR pad!
That punk Brandon UNposted my pictures!!!
Yeah i know your gonna read this!
iT IS COMPETETION RELATED!!!
You would think that you would leave somthing that is getting so many hits ALONE!!!
i have moved my pictures after brandon's ever anoying requests
moderator note: the site linked has popups that has popups
and requests to install Gator software. You've been warned.
http://www.7leaflets.i8.com/photo2.html
we street saced,
arcaded,
bowled,
arcaded,
wendye's,
DDR,
then us 4 swampdudes Tytus,Jared,arom,danyel Raced to jareds house and then we went to see phone booth,
then me and jareg got ice crean at mcdonalds and went home