I see you're going for maximum grip. This is a huge innovation for swerve teams wanting to play defense.
It took me too long to figure out what was wrong right about this.
All I see is 1403's 2021 drivetrain. Who leaked it?!
Might need to add this to my to do list…
Who came here thinking it was a repost of 6300's mega swerve
Swrumpfftve = sit in place while shredding carpet.
Make that a cut compliant wheel and I'm sold.
Oh because Triple Strange's swerves have such trouble playing defense, after all. /s
Imagine what this module could do when paired with a Pushing Power Cube ™!!!
The compliant wheels even works as suspension to get over the bump in the center
Not powered by two slim cims? Think about all the weight you could save!
This reminds me of this picture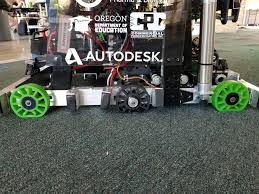 Dang well I know what we're doing now
Have you thought about cutting slight grooves/ treads into the wheel to increase traction? I dont think you have enough.
woahhh, I never thought of it like that…
Stick some blue nitrile on too