The respect I give this statement is over 9000
I asked back in November how these were made on the facebook page. Myself and a few team mentors were thinking the same thing you are, "no way that's machined!".
I was told they are machined. Looking closely at the features, there are small radii on the raised "L's" suggesting a tiny endmill may have been used there, and the semi circle for the bearing shaft could have been done with a ball end mill.
Telescoping tube kits have started shipping today so if you ordered one you should start seeing tracking numbers hit your inbox. I've filmed the assembly video and will work on editing it to make sure that's posted by the time teams start receiving their kits. Thanks for all of your patience and support on this product!
@Ryan_Dognaux Do you have an estimate when you will have bevel gear sets back in stock?
Looking to get those back in stock by kickoff, it's all with the same shipment as the other items.
Any idea on when the new products mentioned in this FUN video will be available?
Full disclosure that I've only had time to skim the video to hear about the new 2022 products. There is a very real possibility that I skipped over a part in the video where this was addressed

Basically whenever they show up, hopefully that's before kickoff
The fabrication & assembly video for the Telescoping Tube Kit has been uploaded: Thrifty Telescoping Tube Assembly Video - YouTube
This video was created for teams that only have access to hand tools and hopefully it helps demonstrate the assembly process well. Let me know if you have any questions.
Looks like you're on a roll for mechanisms. Vectored intake wheels for 2020 and now the telescoping arms!
Indeed. I appreciate all the purchases from everyone, its been an overwhelming wild weekend.
We'll likely be out of stock on them sometime tonight or tomorrow. I am working on a plan with a timeline to get a second round of plates made and will add that to the product listing & post it here once I have all of that information pulled together.
Do you have experience with using the telescoping arms on an incline? Does it behave as well as straight up and down?
I'm assuming the comments on inventory here are regarding specifically the telescoping climber kit that are now listed as out of stock?
How are things looking for the vectored intake wheels right now? The store shows "in stock" right now (opposed to saying both in stock, and showing remaining quantity like your other listings). Are there any trends right now that may indicate these will go out of stock soon (thinking in the next 1-1.5 weeks)? We're likely to order a fair amount for our design this year, but won't know until January 18th if we can commit to the season or not. Hoping I can hold out that long before ordering without running into supply issues…
If I recall, you had mentioned that the switch to PLA and "normal" printers (ie, cheaper and not a markforged) had made it much easier to scale production of these wheels.
Not yet, as we did not know anything about this game ahead of time. Hope to have some testing once things get a little less crazy on the order fulfillment side. It extends fine if you hold it at an angle if that's the question though.
I have built up a fair amount of stock, but they are selling. If a color runs out I will likely remove it from the option list until it is back in stock. But I wouldn't say I'm low on stock at this point in time. I have more rollers on their way now to produce additional wheels as the season goes on too.
I should have a better idea on an ETA for climb restocking in the next day or two.
For those of you who have placed an order - the item we're waiting on are bearings. They have shipped and I'm just waiting for them to show up. Should hopefully start to see a lot of climb kits shipping by this weekend as we kit up everything we can on it waiting for that single item.
Also for those who have been asking - Bearing Megaplates have arrived. Should get them up tomorrow sometime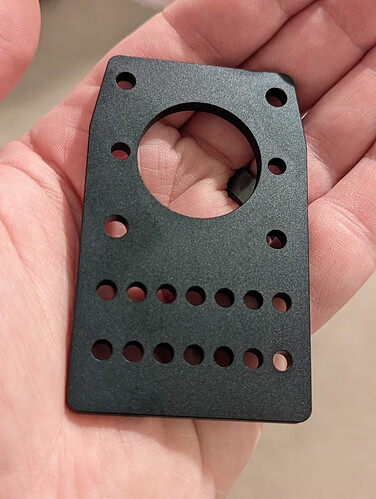 Curious. Has anyone tried using the thrifty climber with a powder coated finish on the tubes? I have not yet gotten into the models, but this popped up and figured I'd ask around.
Doubtful, I sure didn't powder coat them during development lol.
That was my assumption, but still excited to get these in and use them!
A quick question about the Motor Megaplate…
Do you think the mounting holes will line up with the new maxplanetary from Rev? We are excited about these, but want to know if they will work with the new system.
It absolutely should line up. I left the 1 MAX I have on hand at the team meeting last night so I can't take a picture of it, but it has a 2" mounting pattern similar to the versaplanetary. Maybe hold off though as I'm not sure how much that hex socket sticks out and whether it would interfere with the hole size on the motor mount plate. I'll get some pictures of it this week, it may make more sense just to use the bearing megaplate since it still has the 2" mount pattern as well.
It also mounts nicely to the clamping bearing block via the included counterbore hole & hardware: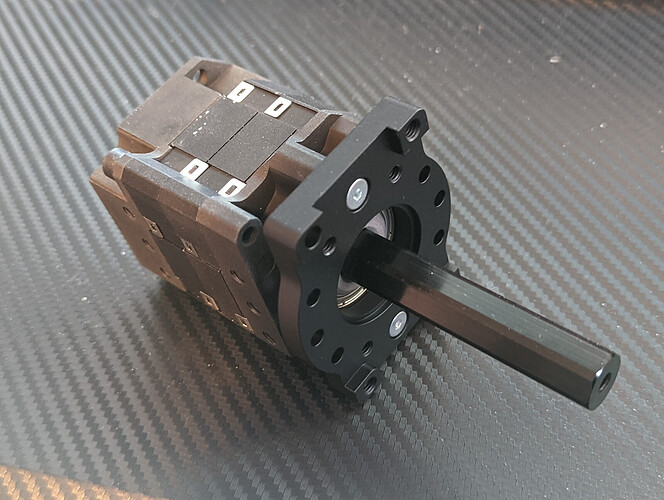 Initial impression is these things are max chonky and have a super robust feel. Looking forward to using it.
Thrifty Bearing Megaplates are now available -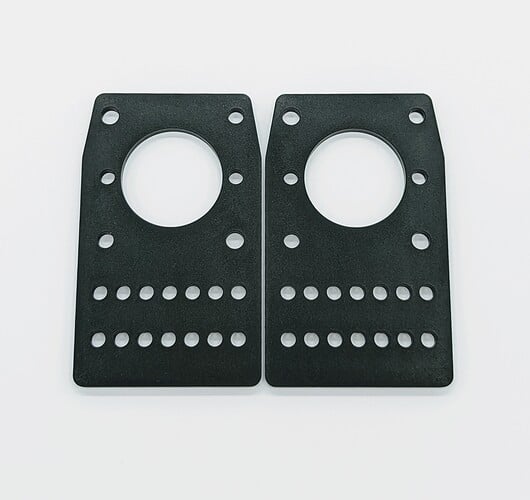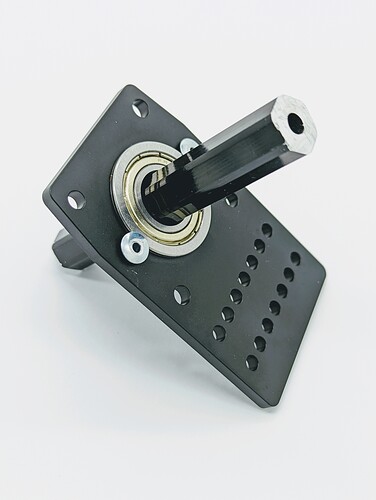 Some have had issues importing the telescoping tube kit into Solidworks. I've uploaded the model to OnShape, there you should be able to export into any file format you need and have it import successfully: Onshape