like why does it look like the robot voluntarily hopped off the bar?
When people were talking about "jumping robots" to make it to the bar… I have to admit I never thought I'd see one. I think you need to equip it with a parachute.
This was our third and (so far) last fall from the Traversal Rung. After this we changed our hook geometry and added nitrile tread to increase grip, which seems to have worked quite well.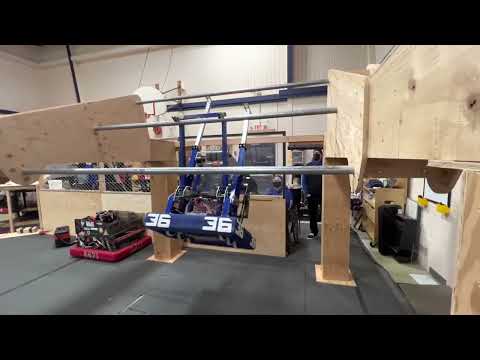 This isn't exactly what you're looking for, as it's a high bar fall, but close enough… maybe? I'm really proud of our drive team in this moment—with no hesitation they just went back up and we hit the traversal (and the first double traversal of GSD with 95)!
Oh I love how the media folks cut this one with the chest-thumping "look at me" tune that stops dead the moment the bot decides gravity is more fun than grabbing a bar


. Driver reaction is spot on as well… definite oof moment there! Perfected in time for PH though!

On the plus side, you got the points for the high bar climb at Kettering! Seriously, what part of the intestines was it actually hanging from? Hook broke off an arm perhaps but a part of the climb mechanism was still attached to the hook?
The hang wouldn't count since we broke the extension limit.
G107 Don't overextend yourself. ROBOTS may not extend more than 16 in. (~40 cm) beyond their FRAME PERIMETER.

Violation: FOUL. TECH FOUL if the over-extension blocks an opponent's shot, scores a CARGO, or is the first thing that contacts CARGO exiting from an UPPER EXIT. If the over-extension enables HANGAR points, the ROBOT is no longer eligible for HANGAR points.
It was hanging by one of the two static hooks on the back of the robot but we sheared through and or bent multiple aluminum tubes that held the hooks up when we tried to hang by one hook. We have some good pictures but we'll save those for a thread specific to our robot / some sort of reveal.
Got insanely lucky in this match… won by exactly 10 points and got a 4 RP match. We needed 8 RP's in our final two matches to seed second and we pulled it off. If our climber rope were 2" longer we would've gotten 1RP in this match and seeded 6th.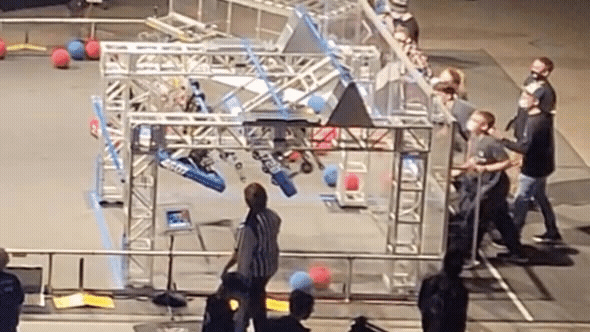 Beyond 1477 falling, 4717 looks really interesting in terms of design. (Also anagram of 1477.)
(Also anagram of 1477.)
We have giant letters we hold up in the stands, which we rearranged into 4717 during the award ceremony when they won something, forgot what it was.
Oh right, forgot the extension rules!

Here is our entry during a practice match today.
We only hooked on with one polycarb hook which evidently wasn't enough and we twisted off right at t=0.