Hi CD! I know that everyone jokes to just shut off Chief Delphi in the offseason, but hopefully these posts give a build season feel. The goal is to have these posts be like openalliance, but just for the offseason.
Who We Are
Trial N' Terror (7900) is currently made up of 2 out of 5 high schools in the Racine Unified School District in Wisconsin. The two high schools are J. I. Case High School (Case) and The R.E.A.L. School (REAL). We are open to any student in the district and even in some surrounding private schools. The only limitation from the school district is that students from Walden III Middle and High School are unable to join our team as they have their own team Walden Robotics (6643).
To give a bit of history, our team was founded by a student who was previously on Walden Robotics and left that high school to come to Case High School. She started our team from the ground up, recruiting mentors and other students to form the team. Before the pandemic, The REAL School did have a team (REAL Robotics, 6807). Unfortunately, they did not re-form after the pandemic, so the few that were previously on the team joined Trial N' Terror.
Trial N' Terror, or TNT, has always had a high female student presence, with this year being 50% and previously being 70%. We have always striven for diversity and inclusion, but are lucky in the fact that diversity seems to find us. Case High School is a Title 1 school, so we work extremely hard to get sponsors and funding that allow the costs to the students to be as close to $0 as possible.
The Goals for the Offseason
The major goal for the offseason is to recruit and train students as the majority of our long-term students graduated this year and we only have 9 remaining students, many of whom only had their first season this year.
The other goals for this offseason are:
Organization
Swerve
Odometry
April Tags
Recruit Sponsors
These goals have not been completely planned out yet, but these are the ideas we are looking towards developing.
Update #0
We demoed our robot C4 during open house nights at Case, REAL, and Washington Park High School (Park) to attempt to get more students to join the team. The turnout varied significantly between the schools, but we believe to have some potential students interested. We also did some code changes and repairs on this year's robot C4.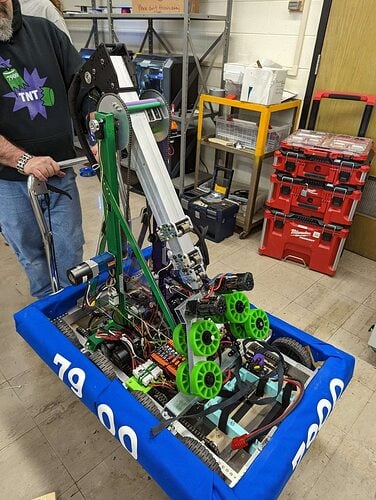 We had a lot of issues with various joints of the robot being fragile and requiring repairs after nearly every match at the Wisconsin Regional, so we will be working on some training for the students to learn good strength practices. We also have been having issues with Rivnuts coming out, which was our major way to affix different parts to the tubes. We are planning on doing some pull tests with different brands and installation methods. But in setting up the test it was determined that the likely cause of failure was due to over riveting. It was noticed that instead of flaring against the inside of the tube, some of the Rivnuts would just expand the hole which caused significantly less holding force. So, the likely fix for this will be just training on how to install a Rivnut properly.
Update 1 (6/5/2023)
We worked on organizing the hardware and fasteners drawer of our main toolbox, as it has been a disaster for a long time.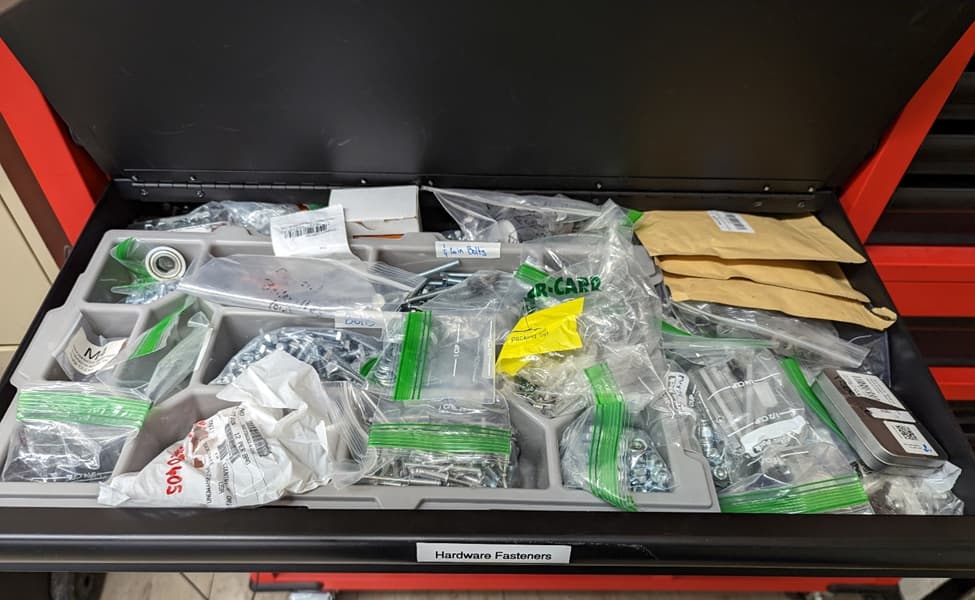 We are utilizing the Gridfinity System developed by Zack Freedman (https://gridfinity.xyz/). Gridfinity creates a grid of 42mm squares that allows organizers to slot into a grid baseplate. The current plan is only to Gridfinitize the hardware and fasteners drawer, as it has many small parts that can easily get lost and would benefit from labels and color-coding system. But there are other examples online of people doing their entire toolbox. You will likely see a lot of color coding from our team as this year we had some difficulty with technical communication, as many of our newer students are not familiar with many of the terms and what they mean, so it makes it simpler to ask for a "Red" Bolt that is 2 inches long.
We started by taking inventory of the drawer. While taking inventory we made note of what grid sizing that set of fasteners needs. The basic Gridfinity bins have support for optional label locations and an optional scoop to allow for easier grabbing of small parts. We wanted to label
everything, so we only made note of whether or not we wanted a scoop for grabbing the parts.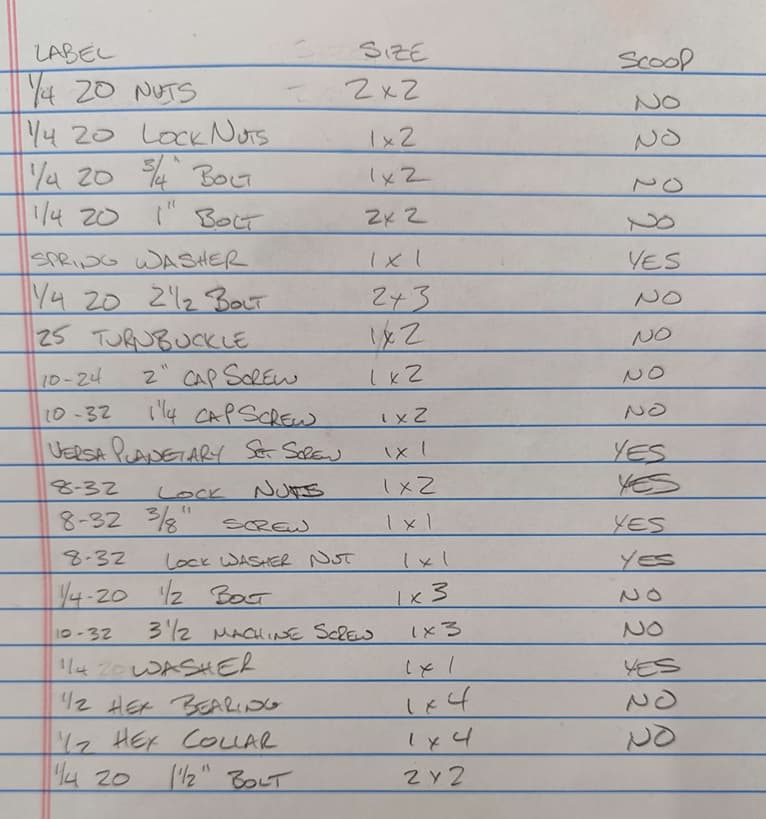 At the same time, we decided on a color-coding system for the different fasteners.
| Color | Fastener Size |
| --- | --- |
| Pink | 8-32 |
| White | 10-24 |
| Lilac | 10-32 |
| Red | ¼-20 |
| Yellow | 5/32" Rivet |
| Blue | 3/16" Rivet |
| Green | ½" Hex |
| Recycled Blue | Misc. |
| Purple | TBD |
We unfortunately used a wide variety of fasteners throughout the season and plan to consolidate for next season, but did not want to immediately throw away the other fastener sizes in case we need to replace something on this year's robot. We measured the drawer and determined the max it could hold is an 8x15 baseplate. The largest printer we have access can print 350mm x 350mm, so we had to split the baseplates into 8x8 and 8x7.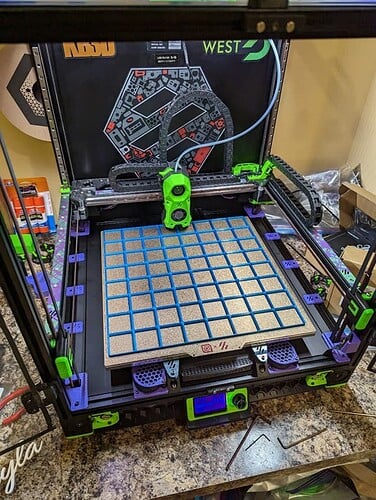 This left 24mm remaining inside the drawer that could not be taken up by a grid space that we will have to find another use for.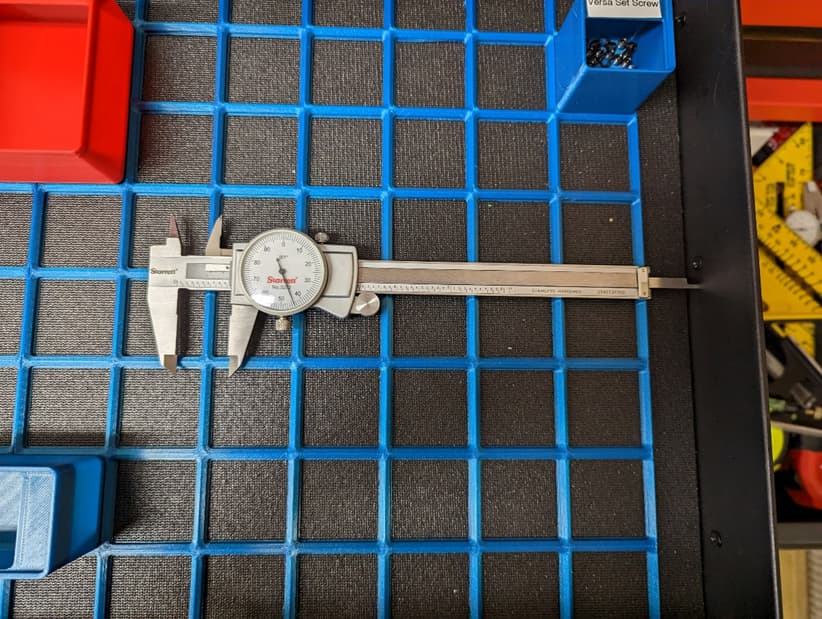 We printed off all the bins that we determined from our original inventory as well as a few extras. Gridfinitizing the drawer is still a work in progress, but part of the idea is that it is adaptable to what our needs are. In the process of gridfinitizing the drawer the mantra of what the goal is of the drawer changed a bit. Originally we didn't intentionally store gussets, bearings, or shaft collars in the drawer, but we quickly opened up so much space we weren't sure what we were going to fill the space with. We ended up making a custom container for L and T TTB Gussets with some rivet storage. We also used the additional space that the baseplates couldn't use for rolls of label maker tape. The mantra of the drawer is now to store small important items that need to be grabbed quickly. So we will be adding master links as one of the items in the drawer.
Our measurements were slightly off, so the height of the bins are a little too tall for the back row. It is hard to see from the picture but the back row is not populated with any bins. The bins can fit there if you push hard as they will pop in just under the hinge, but it can be very difficult to take out, so whatever bins are used in the back row will need to be shorter. We accidently printed some purple bins that are a different color, so we will have to figure out exactly what to put in them, but we updated our color scheme to add Purple and Lilac. Unfortunately, we discovered that when a 1x1 has nothing next to it and only contains very light items, it can be accidently tipped over. So for light/small items we printed small bottles with a screw top. For style points we wanted to make the bottles as clear as possible with the cap matching the color scheme.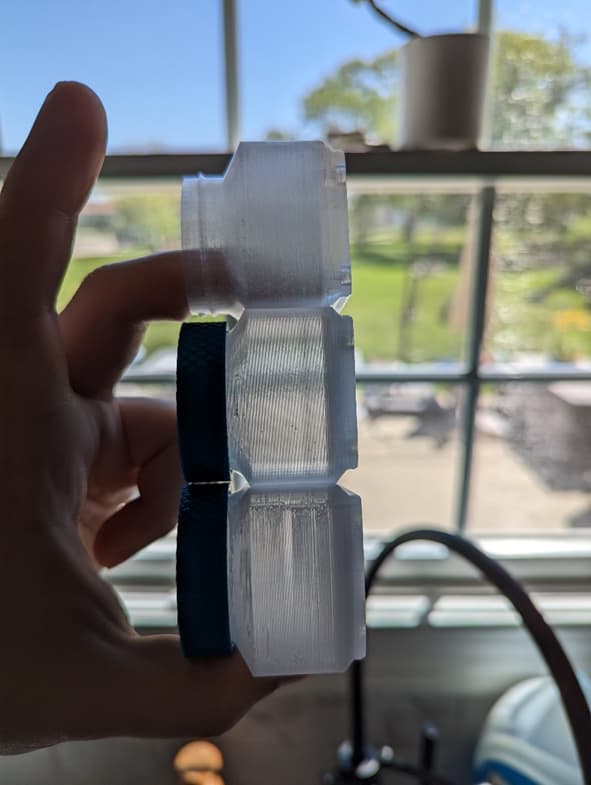 It took a few attempts to print the PETG as glass like as possible. We used these sources: How To Print Glass by Rygar1432 and Transparent FDM 3D Prints are Clearly Stronger to assist in dialing in the settings to make the bottles as clear as possible. We were not able to find what settings would give both a clear side wall and a clear base, so we will need to experiment with the settings to make perfect glass bottles.
Files we used:
Our battery cart was a last-minute addition to our pit setup this year, so we did not get around to finishing it during the season. It serves multiple functions having a work surface when closed, charging all our batteries, and storage for the pit. The downside is that it is so large that it makes it extremely difficult to take to demos.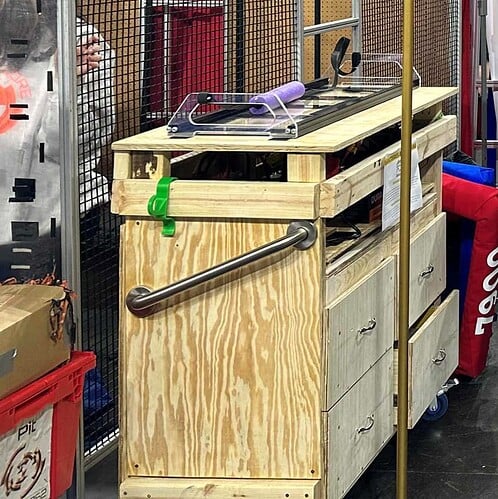 The Battery Cart is getting a coat of paint, hiding some of the imperfections, but giving it the TNT branding we are looking for. We unfortunately destroyed one of the drawer slides when transporting it for painting.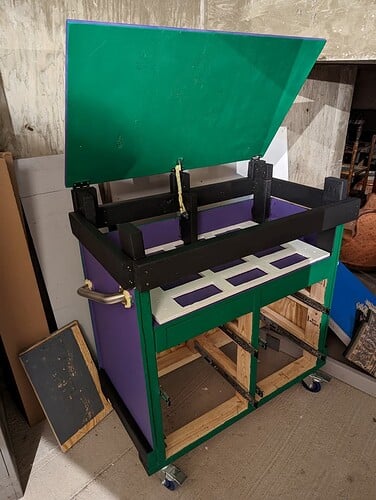 The other benefit of the paint is to provide a color code as it will be easy to identify, such as the top purple drawer.
Feel free to leave any comments or questions, I know our team would be happy to talk about any of the things we are working on. I am not sure how frequently these updates will get posted, but I will try to outline the major milestones as we go through the offseason.