This was so awesome!
(I was the Dancin' Droid)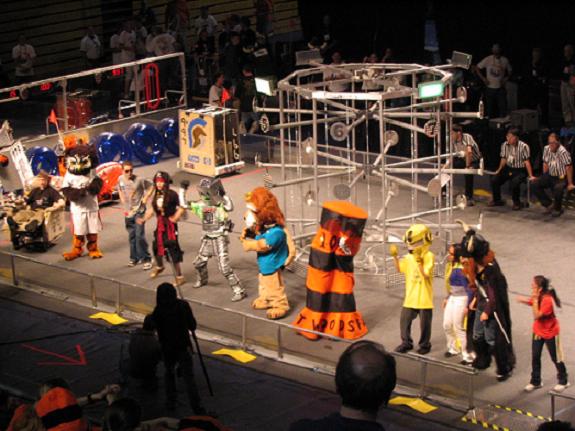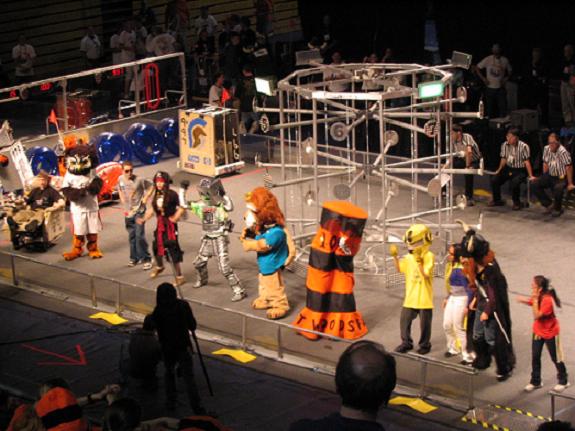 heh…we gotta get that pocket protector costume built for Darryl…
lol i remember this. What you dont see is the 20 people lined up to get in but it was "Mascots only"
The all girl team (Fem 'bots?) were all lined up, that was fun
A Moving Chair?
Aww, our mascot, the diamond plate dog, is cut off in the corner… I'll have to find a picture.
Our unofficial mascot wasn't let in because he was only wearing a U-boat captain's hat and had our flag.
=/
Anywho, I remember that. 'Twas awesome.
Is that someone in a recliner?! What team is that?
Yes, it's a chair w/ motors that moves
I forgot which team it was (1578 or 1678, see side)
(Were doing the same thing with a sofa!)
1678, EnGen Robotics.
Their shirts have "Gracious Professionalism" on the front.
In leet.
But yeah, that was a recliner. It's called "Robochair".
Here you go. A picture is worth…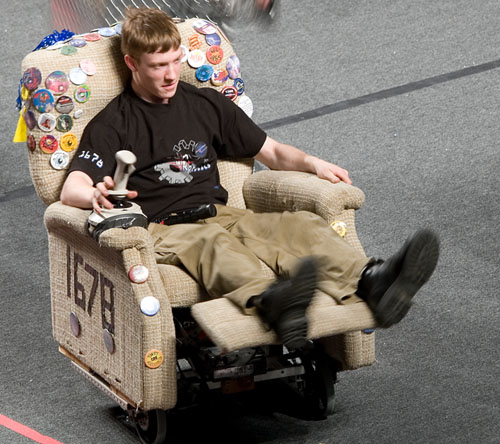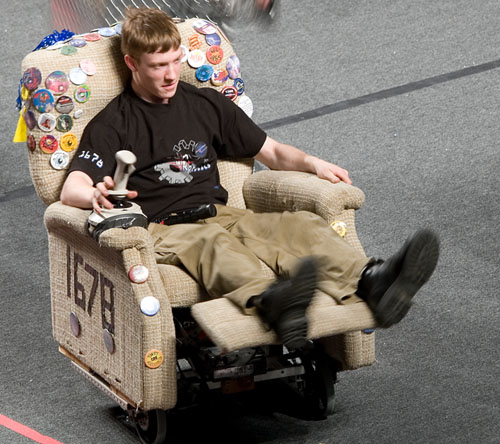 I like the use of the KoP (bottom)
Our unnoficial mascot was let in. (Emily the Pirate) she may have been an unofficial mascot but she probably had more spirit than any other person in Sacramento.

She was also our safety person and on Friday she was awarded Safety Person of the Day for walking around the pit saying stuff like, "Arr, mateys! Wear your safety goggles!" and for creating "thank you" posters for all the volenteers.
If only our entire team had such spirit!:rolleyes:
She was a great dance Partner (and a cutie)
Does anyone have any video footage?
I need it if possible (For school and Senior memories)
Anyone have a video of the dance-off in Davis?