I wanted to share a tool I've been working on for the last couple days, one of the things I frequently see teams doing is designing beyond the specifications of the VP gearboxes without realizing it. But I've also had problems with "crap what parts exactly do I need for this configuration. So I built a tool to address both concerns.
https://schreiaj.github.io/versa-config/
Default - no stages or inputs/outputs selected
A sample good configuration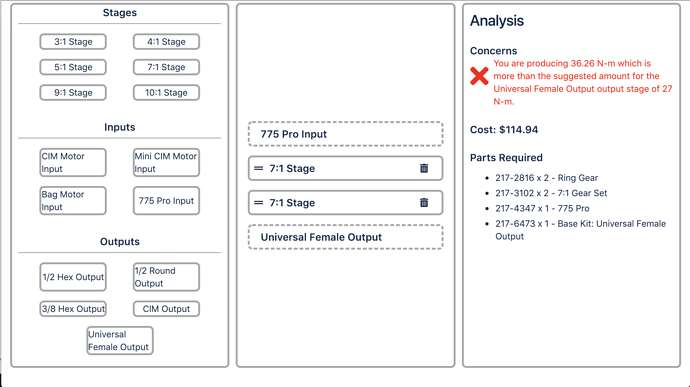 Exceeding the suggested max output.
It will currently do some sanity checks (do you have input/output and stages, check that you aren't going beyond 4 stages, and checks the max torque of the output stage.
Im aiming to add more and polish the UI a little more over the next couple weeks (Those of you who saw old version on my twitter can already see improvements) as well as the double input options and VP Lite gears. I would LOVE to add per stage torque calculations but I don't have max torque for each stage, if someone from Vex would like to provide those (@JVN hint hint) I would love to include them as well as add some additional design rules if people have any good ones.
I hope it's something teams find useful and look forward to hearing any feedback (you can skip "it's ugly", I'm working on it)
Edit: And yes, @Billfred already gave me the "why no AM tool" spiel, I wanted to get this one polished, it's built with swapping rules and parts in mind.