This was first mentioned in a pre-existing thread in the VEX Category here on CD, but I figured this event would have further reaching impacts to the entire robotics community, so I made this post here in the general category.
This evening (11/28/22), the VEX Forum website, which was offline since last wednesday, was updated to display the following message: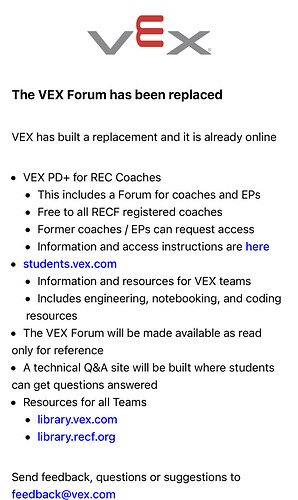 This is a devastating loss for the VRC community, and I feel it personally as well. I have spent so many hours over the course of the last 8 years engaging with fellow competitors on VEX Forum. I can say with certainty that it was an essential influence to me on my journey through VRC and that the skills I learned from it and the people I interacted with were major contributors to my choice of degree in college.
The VEX Forum held over a decade and a half's worth of learning material, technical deep dives, contentious community debates, and engaging community activities. It was one of the first places that I learned just how cooperative, fun, and impactful the robotics community is. It has forever had an impact on my life.
I am deeply saddened and angered to hear that VEX has chosen to retaliate against their own community, and is in doing so robbing countless students and other VRC participants of the chance to be positively impacted in the same way as me. We can only hope that the now fractured remnants of that community can pick up the pieces and thrive again somewhere else.
Charles
VRC 2114B, 2114V
VEXU PYRO
FTC 10157