I'm primarily a VEX person, so this is my first CD post…
So to those who aren't yet aware, VEX Forum has been (very likely) taken down by IFI. If it isn't a coincidence it is in response to this post (if you haven't read it please do).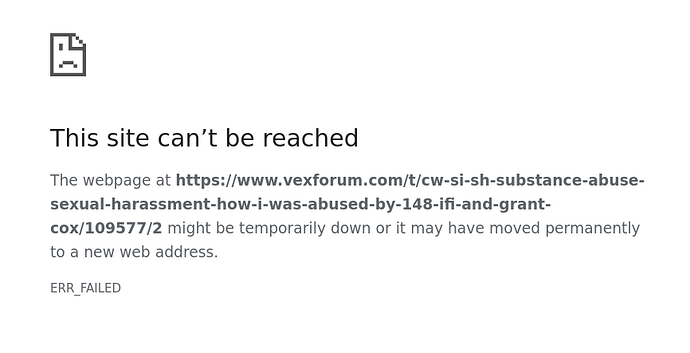 The timing is very suspicious, and gives us some early insight into what IFI's public response is going to be to one of VEX's prominent public figures being exposed like this.
Though CD and VF share an administrator, and people commonly associate with CD being managed by IFI, I wouldn't worry about it being taken down. VEX Forum is hosted on DataBank, a hosting company that hosts most of IFI's, its subsidiaries', infrastructure. By extension VEX Forum is likely under IFI's full control. On the contrary, chiefdelphi is hosted on DigitalOcean, a company known for hosting smaller sites (personal projects, communities and the like, though some larger companies also use their services). So CD is likely completely under the control of Brandon's personal DigitalOcean account, who is unlikely to take it down.
Hope this helped clear some things up
- m
(PS: I created an archive of VF content a few days ago in the case of this happening, it's currently only in a machine-readable format but if anyone wants it they could download it here [~5 GB])