Hi Everyone,
Let me first introduce Studica:
Studica develops, manufactures, and distributes mechanical and electrical parts for the mobile and competitive robotics market. The Studica staff strive to support the FIRST Community and the robotics education market by developing and distributing essential components to robot builders.
As a proud Gold Sponsor for FIRST Robotics Canada, Studica supplies and supports FIRST teams at all levels across Canada. Studica stocks and distributes AndyMark, Rev Robotics, and Kauai Labs products in Canada to support Canadian Teams.
Through our partnership with FIRST Canada and Kauai Labs, we saw a need for a cost-effective way to bring First Robotics Training into the classroom while at the same time having a platform that would allow us to address the professional development and training of mentors and teachers.
We are pleased to announce the VMX FRC compatible Training Robot.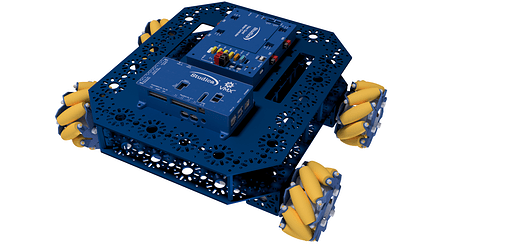 https://www.studica.com/us/en/Studica-Robotics/frc-training-bot.html
The Studica VMX FRC-compatible Training Bot (FRC Trainer) is a smaller, sturdy, lightweight, and less expensive robot than your typical FRC robot. If you have a large FRC team, often only a handful of students get to learn how to create and program your team's costly competition robot. The FRC Trainer solves this problem and is ideal for groups of two to three to participate in hands-on learning in a classroom environment. Schools can equip their labs with multiple FRC Trainers, benefiting from the great value and compact size. Students can even take it home with them!
This affordable solution is intended for:
• FRC teams that want to learn and train on a smaller and more affordable robot,
• Schools looking for a way to teach FRC robotics in the classroom.
• Schools that want to teach coding in the classroom through robotics.
The VMX FRC robot is that it is compatible with WPILib allowing teams to access the identical tools and libraries (C++/Java) used by teams using in FRC Competition. Using the VMXpi from Kauai Labs as the controller, we can mimic the features of the roboRIO. The controller communicates to a specially developed motor controller, the Titan Quad using an FRC-compatible CAN interface. The Titan Quad integrates a simple PDP, LED controller, and can drive up to 4 DC motors with Encoder and Limit switch inputs.
VMX-Pi Key Use Cases and Hardware/Software Features and Benefits
The training robot also includes
2 x 12V 3000mAh batteries
Battery Charger
USB Controller
Java curriculum (From basic Java to building Java projects used in programming FIRST robots. Includes getting the robot to move via a USB controller and autonomous programming.)
If anyone has any questions I will answer them here.
Thanks
James