Thanks @tedang. Those are some great photos. As a programming mentor I marvel at the mechanical designs that teams come up with and love to see them up close.
Kevin
I'm being lazy and not reading the whole thread, so feel free to send some angry responses if this has already been mentioned, but the core benefits of the single wheel shooter are:
Simplicity. A single wheel with a hood can be designed and built pretty quickly. Our first prototype was up and running in a matter of days, and we aren't the fastest. It's also one less motor to tune and fewer variables to get bogged down in.
Weight. One wheel instead of two means half the weight, and that also carries through to motors, reductions, wire, and speed controllers.
Backspin. Backspin gives the ball some lift as it travels, keeps it from "knuckle-ball-ing" as it flies, and means the ball will deflect downwards when it hits the goal (reducing the likelihood of bounce-outs).
The biggest reason to use two wheels is added speed. All of the backspin in a single wheel hooded shooter comes from friction against the hood, and friction against the hood means a slower shot. A hooded shooter with a very very high coefficient of friction will have the ball traveling at half the surface speed of the flywheel. A two wheel shooter can have the ball traveling at the surface speed of the wheels. From my old trajectory calculator, the faster your shot is, the more you can vary your shot speed without missing. So because your flywheel slows down with consecutive shots, a shooter that fires faster will stay more accurate through that speed loss than a slower one will.
The "IFI special" that popped up this year with a larger main flywheel and a smaller one on the hood is a way to find a happy medium between the two, and to have a fast, consistent shot that still has some backspin. Also there's something freaky happening with friction there that I don't totally understand. I'm sure someone with a bunch of blue banners could explain better.
The counterpoint being that you don't have rotational inertia on your side to stabilize the shot if you go with a two wheel shooter, leading to a more unpredictable flight path. Though you do have to start contending with the Magnus force if you spin too quickly. It would be an interesting problem to see where the tradeoff between shot speed and stability lies.
One thing the calculator does not account for is that a higher shot velocity leads to more release angle variance ( in our experience). We were finding a nice lob was giving the best results. I think this non-constant angle variance has something to do with the way the ball accelerates and pops out of the shooter. The double flywheel lets you gear and shoot slower, leading to extremely low-velocity variance. This means you should optimize your shots for angle/distance variance. There is definitely something whack going on with the physics of it all.
One of our Parents is a photographer and took hundreds of photos at the regional and a lot of them are very cinematic but none the less there are some good pictures of 987 in there too. Link
Two flywheel designs made a small, quiet resurgence last year that was often unnoticed. Teams with hooded shooters would sometimes add very tiny wheels at the end of them to give their shots a bit of a boost. Otherwise, one wheel hooded shooters have been the FRC consensus for over a decade of games like this.
The reason a hooded backspin shooter was often preferable to a conventional double flywheel shooter is twofold - backspin and contact duration. Applying a lot of backspin to the ball was a great way to make a shot more repeatable and to flatten its trajectory, which is very important for accurate shooting at multiple distances. Hooded shooters have an easier time contacting the ball for a longer period of time than conventional two wheel shooters do - often for 1/4-1/2 a turn - and this extended contact time allows for a more consistent delivery of energy to the ball and helps account for differences in the material consistency of the ball. Foam game pieces are notoriously inconsistent, espeically as they take damage throughout the event.
The "hooded shooter with booster wheel" design tries to get the best of both worlds, but it is a fairly advanced design that is likely more trouble than it's worth unless you are a team playing at a high level.
Contact duration can be increased by using multiple flywheels to accelerate the balls (like in the picture), though that increases weight and complexity.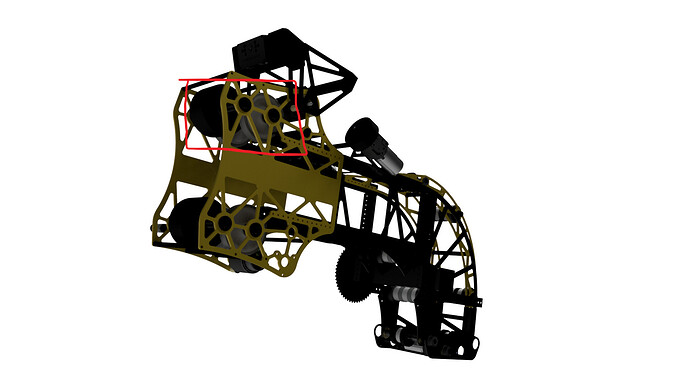 Double flywheels also have the advantage of having more inertia, so they can shoot more balls consecutively without slowing down as much.
Right, but this isn't inherent to double flywheels, this is just inherent to having a heavier system. The same number of objects on a single flywheel axle would have the same amount of inertia.
This is definitely a good idea to prototype, for both double flywheels and single flywheels. It was most popular in 2013, but in reality it is a valid and potentially effective design choice any year. 180's 2012 champion winning robot featured this using a single flywheel, and I think it was an underrated aspect of that robot.
We kinda used the "hooded with booster wheel" designed, but we actually approached it from a two flywheel perspective and added the hood because of system geometry. We realized the further advantage of having more contact duration later on, and actually had a 3 roller design, with the flywheel, "booster wheel" and another flywheel under the final one, which further increases contact duration. (the balls actually come at a very high velocity into the wheels which makes it so they don't have to accelerate the balls nearly as much). This configuration was deemed in prototyping to be very successful. While being a bit complicated, it works extremely well.
Bellow are photos of the prototype and assembled shooter on the robot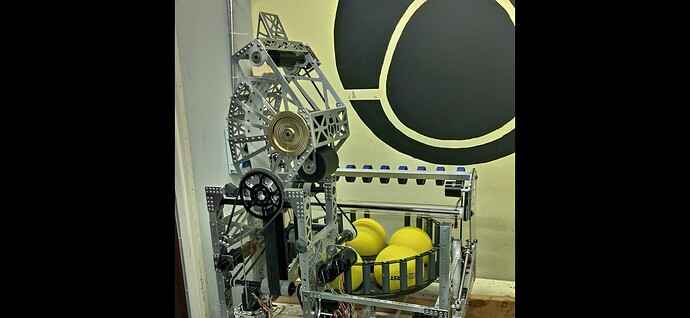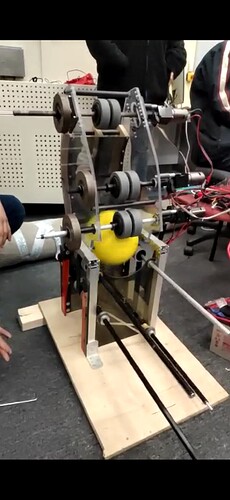 It's important to note for those seeking to learn that at issue here is moment of inertia (rotational inertia) of the flywheels, not the inertia (mass) of the system. It is entirely possible for two rotating systems to have the same mass but different rotational inertia, and it is good design to maximize the latter while keeping the former as low as possible.
Everything you said is true but doesn't have anything to do with the point of my post. Wheels on two different axles, versus the same number of wheels on one axle, will have both similar mass and similar rotational inertia. The "heavier system" of a two axle shooter is almost entirely in terms of the additional axle and wheels.
My team didn't have the ability to make or buy flywheels so we just used raw motor power with minor pauses between the shots so the wheels were spinning at full power.
Got it; I misunderstood your point.
We actually tried putting a flywheel mass on our shooter, but it was too much inertia – when the motors slowed after we were out of balls, the inertia in the system shredded the teeth off of our drive belt. Rather than redesign for a much bigger drive belt, we took the flywheel off and did the same as you – a brief pause after every shot.
The intermittent loads you put on the belt between shots in a low inertia system like this are going to be an order of magnitude higher than the load the belt would see spinning down in a high inertia system with a basic ramp-down function in coast mode. I don't think this is the right takeaway from the teachable moment.
We weren't coasting because we wanted to simply go from shooting speed to a lower, but non-zero speed to (a) save energy but also (b) not have as "far to go" to get up to shooting speed.