Hi Everyone,
I wanted to post an update on where we are with our mecanum stock and updates. The demand for mecanum's in the 2" size has been insane this year. Before shipping mecanum's we wanted to test they would work for this years game piece and not get stuck into the balls aka useless for this year.
We had molded rollers that we believed would be amazing, they were tested on the 2017 & 2019 game pieces (since thats all we had left). When testing on the 2020 game piece they did not work so hot and dug into the game piece. The issue was the roller was too soft and allowed it to stick to the game piece, we tested this saturday of kickoff but machined some harder rollers that worked 10x better. We also noticed our printed rollers would get stuck to the ball and grab as well.
So we had our factory produce harder rollers that were still grippy and the results were night and day. Below is an album of tests we did. They consisted of vectoring across a bumper (with and without plastic), over the bumper tests and my favorite pull the ball through in the corner. After testing 1323 will be using these in the over the bumper format. No I'm not saying this to sell more, the team was just happy with the result. Wish we had this last year as the team struggled to grab balls on the edge of our intake or the ball would pop out since it got squeezed through our system.
https://photos.google.com/share/AF1QipOu9mTThrIsgW4urn9mKj5FDF3RqgBu0rF5sQ_dJDEzNWSOu55ATCv1gCyT12TZmw?key=Wmxsd1huazBETHVsQmlwVW1kdnE3Z2gxVTVPOXV3
You probably noticed a 2" wheel that looks like the Nutron 2" Mecanum. You're not wrong to believe this, we have been working with 125 to create a v2 of their v1 mecanum to be injection molded. We ran out of time this year to get the item produced and I have been kicking myself about it the past week. @Brandon_Holley and crew have worked with me to create an FDM version from the injection part to be sold in the meantime. We've always wanted the perfect mecanum and believe that 125 has one the best designs for a True 2" mecanum. We used a flat roller version in 2017 and hated it/created to much of a chopping action vs rolling. Below are pictures of mecanum's from Left to Right:
(125v1 (FDM), 125 v2 (FDM), WCP Metal: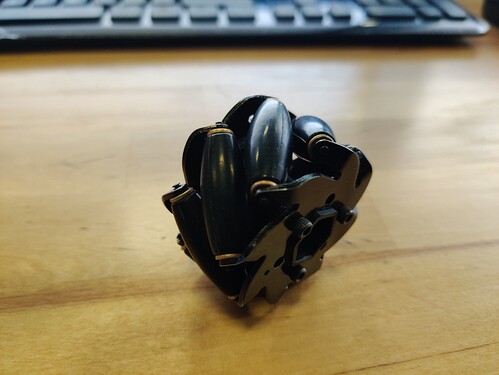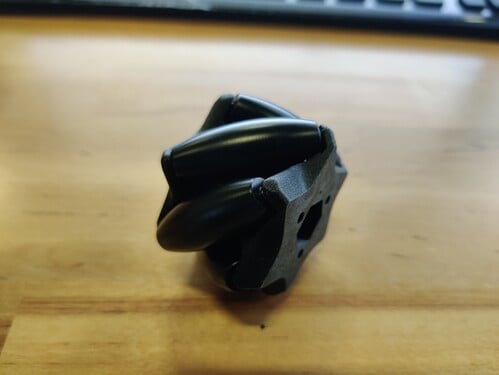 So what does this mean for customers:
We are OOS of the metal ones till late feb/early march. Customers who ordered currently will be getting their orders shipped starting today/weekend. Waiting on screws but shipments will start going out today/tomorrow.
We will be shipping the Nutron 2" v2 Mecanum with printed bodies & machined rollers for customers who didn't get their's in/past our cutoff point where we ran out of stock. These will be allowed to be backordered as we'll ship all backorders in the next 1-2 weeks. This product and CAD are available on the site. We will be turning on backorder as soon as we can make sure all our current customers are taken care of.
What is the future plan:
I am incredibly unhappy that we didn't produce enough mecanums for everyone this year. Our goal has always been to produce the best product we can and have been trying to keep items in stock, huge sticking point for me as I hate when stuff goes out of stock. Some of new products that were suppose to last the entire season have sold out in 1-2 weeks. Across the board we are working very hard to restock items but in the next 1-2 months we will be doing these things for the mecanum wheels:
Producing the tooled/injection molded version of the 125 v2 mecanum with various roller durometers.
Increasing stock of the 2" metal HD mecanums and offering various molded rollers. This product is tooled so its "easier" to get more but the leadtime is still 30+ days.
If anyone has questions please post here, we'll be posting today the manual on how to assemble these and a fixture jig. Email support for any questions. Also look out for the "CC" this year it'll have them in action.