Send me all the offcuts.
Love making brackets and bumper mounts from them.
Very true here. Most hex shaft from FRC suppliers I've found to be sold in lengths no longer than 36", so was really only thinking of box tubing with my statement above.
In an ideal world we would purchase raw box tube from a local supplier and drill the holes ourselves, but our team's current situation doesn't make that a viable option. I guess pre-drilled 48" lengths it is!
No one loves making brackets!
My printer doesn't seem to mind it.
Come on over to Milwaukee and I'll load you suit case with them haha.
Yeah, totally understand. The price of shipping is the real driver for us.
Based on what we release, if teams want longer stock they can email us and during our next buy period we can add longer lengths of select tubes. We spent some time digging through robots and open alliance CAD to see if a 4ft tube wouldn't' be good enough. Most (90%+) of the time its more than enough, only downside is it produces more drop pieces
That's just an excuse to make small off season bots - use up all the offcuts. /s
I know this is a big ask but we were asked by one of our sponsors what materials and products they could buy for us. We listed some from WCP but having a whole list of things all on one page confused them to no end. Would it be possible to have a direct link to a singular item somehow? Our usual work around is to just list the part number and that sometimes helps.
Maybe you could just get a quote?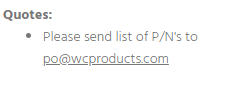 A couple of options:
You could fill out a cart and download it. They can then go to the quick order page and upload it.
You can just email us sku's and we'll create a quote for ya.
---
This is now Live! We have been doing site updates, so if there are suggestions please post them. One of the most asked ones is getting your invoice. This will now be available in the backend and through emails too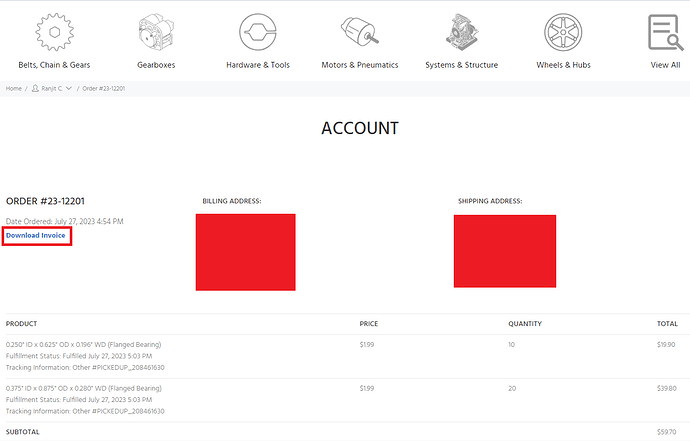 Looking at the CSV and quick order page it's workable thank you.
Those screenshots still have your 2019 robot smh.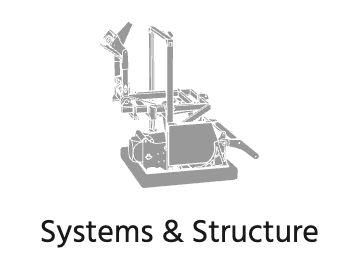 WCP is excited to announce our sponsorship application for the 2024 FRC Season. We could not have gotten to this point without the support of all our customers, and we want to give back. The FRC community has given us the opportunity to continue releasing and improving products each year!
We are seeking teams that are committed to continuous improvement, have a passion for robotics, and are dedicated to giving back to their community. We are now accepting applications for sponsored robotics teams. Applications will be accepted until October 31st. The sponsored teams will be announced in mid-November.
If we have multiple teams in our program, should we submit one application for all of them, or separate ones. I would assume one application total right?
Love to see this.
Brendan
Yes sir! Please submit one application.
So great to see #TeamWCP!
Is there any update on availability of the Omio x8? Our team ordered one 2 weeks ago and was wondering when it would be arriving.
Some came in today and the rest are here end of the week. I suspect we'll start shipping some by the end of the week after we band them.
For omios we basically have them come in every 2 weeks so the delay isn't too bad.