Hello all, we kinda lost our last competition and I don't believe were going to states, so I have something to share with you that I want others to use.
BlueDashPro: A Dashboard for your Pit
The Dashboard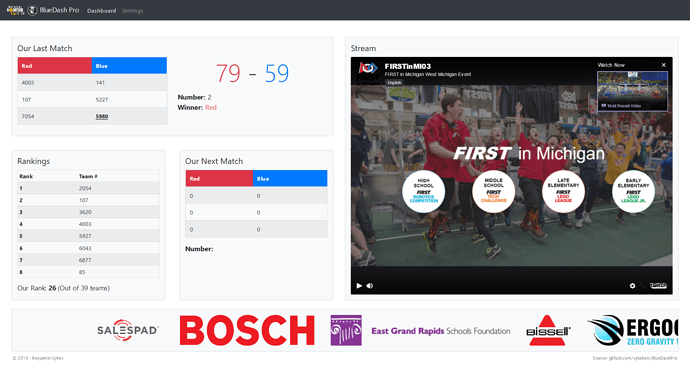 I have been working a lot recently on this largeish project only to find we may not be able to use it a ton this year, so I want you guys to use it. It is a dashboard that shows how your last match went, what your next match is, your rank, the top 8 teams, a stream of choice (or an automatically fetched Twitch stream), and sponsors.
Settings

It's super easy to set up. If you visit it for the first time (by going to it here), it will load some testing defaults that I used to make sure it works, but you can clear them and enter your own. Here's what each field is for:
Team Key: "frc" + Your team number (example: frc5980). Basically, it's a simple string that TBA uses to ID teams.
Event Key: Year + District + Event (example: 2019miwmi). Similar to to the team key, it's a simple string used to ID the event. It can be found by going to the desired event on TBA and copying the text after event/ in the URL into the text field.
Stream URL: This is optional. It can be a twitch stream, YouTube stream, whatever. It just has to be a player instead of the whole page. If you want (which you should), click on the "Autofetch Twitch Stream" button and it will just automatically get the Twitch stream from the event data.
Sponsors: If checked, images located at the URLs in the textbox will scroll at the bottom of your dashboard. To add an image to the list, just write the full URL to the raw image on it's own line in the box. To add another image, just add the URL to a new line. Pretty easy.
You can load our team defaults by clicking "5980 Defaults", but this button is only really used by me in our pit, or on the TVs at school. You can clear all the settings by clicking "Clear" or save them by clicking "Save".
Modifying the Code
All of the code is available on Github (repo
linked here
), so you can make a fork and modify it to suit your own needs, or fix things that I somehow broke or never made right.
Links
Dashboard Page
GitHub Repository
Final Notes
If something's broken or you want to suggest a feature, submit it to the repositories issue page. I spent a lot of time on this and I hope you get just as much of a kick out of it as I, my team, and those who liked our pit did. Please submit a reply telling me how it could be better, what you liked, or what stinks about it.