Thanks for having me on, I had a lime of a time!
https://youtu.be/Lhy9NexrGA8 Hear about all 34 Week 4 events from Rapid React on FRC Recap and week 5 shout outs!
oof I just want to clear up that at SBPLI#1 we only got 1 red card in Q48 for tipping not 3, we didn't make it out of inspection/to our first 2 matches which caused the total of 3 DQs (not that that's much better).
Hey Rich, that's on me for getting that wrong as I was the one who recapped the event. Thank you for the correction!
If you need Long Island summaries in the future…
Assuming this is a bit in gest but with 34 events last week and not having 34 hosts each at their own event the best way for to help out our hosts is to have something posted prior on a thread like this or on FUN's discord. As we have to do writeups Sunday/Monday the turnaround is really quick.
From past experience having 'contacts' that help provide info tends to be a waiting game to a point that it's not worth it cause you have to get the write up done. I've had people DM me with info that I pass on to hosts ahead of time too and that is helpful.
FRC Top 25 is about to start for Week 4! Come join in. We're also going to show ranks 26-50 as there were over 600 teams nominated this week. https://twitch.tv/firstupdatesnow
https://youtu.be/QYnvs7tyWpk Check out Week 4 Clips of the Week for Rapid React including a jumping robot! Shout out your team if they are in this video.
Submit your clips by Monday for the current week at https://discord.gg/firstupdatesnow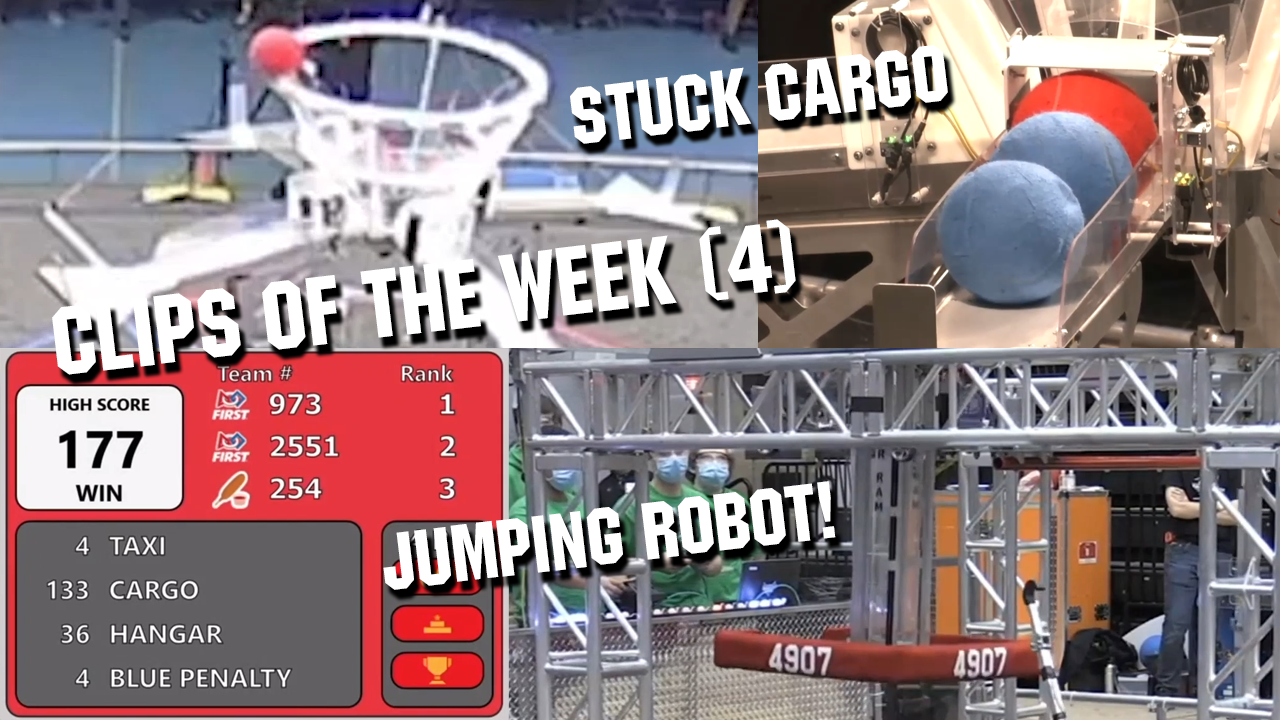 https://youtu.be/Fm3qfohSCTY FRC Top 25 Week 4 for Rapid React features a fresh set of teams who were voted on by the FRC community. Congratulations to 254 who was voted #1 for this week. 650 unique teams were voted on in the FRC Top 25.
Vote in the FRC Top 25 for week 5 https://firstupdatesnow.com/frctop25522 Polls open around 5pm eastern on Sunday and close 5pm eastern on Monday.
Note for Week 4 ISR 3&4 and Long Island 1&2 were included. ISR DCMP teams and stats will go for week 5 voting.
Week 4 FRC Top 25(50) 2022

| FRC Top 25 Voting | Team # | Team Name | ELO | Auto Rank | Tele Rank | End Game Rank |
| --- | --- | --- | --- | --- | --- | --- |
| 1 | 254 | The Cheesy Poofs | 4 | 6 | 1 | 11 |
| 2 | 1678 | Citrus Circuits | 2 | 40 | 5 | 127 |
| 3 | 1690 | Orbit | 1 | 2 | 2 | 37 |
| 4 | 148 | Robowranglers | 3 | 8 | 10 | 78 |
| 5 | 3310 | Black Hawk Robotics | 5 | 20 | 9 | 2 |
| 6 | 973 | Greybots | 7 | 29 | 8 | 144 |
| 7 | 1323 | MadTown Robotics | 15 | 18 | 3 | 49 |
| 8 | 118 | Robonauts | 16 | 43 | 65 | 91 |
| 9 | 870 | TEAM R. I. C. E. | 8 | 115 | 7 | 256 |
| 10 | 4907 | Thunderstamps | 148 | 67 | 95 | 226 |
| 11 | 1619 | Up-A-Creek Robotics | 11 | 12 | 12 | 57 |
| 12 | 125 | NUTRONs | 12 | 24 | 16 | 140 |
| 13 | 5172 | Gators | 13 | 11 | 6 | 403 |
| 14 | 694 | StuyPulse | 24 | 22 | 52 | 14 |
| 15 | 1577 | Steampunk | 30 | 9 | 14 | 126 |
| 16 | 2056 | OP Robotics | 40 | 4 | 18 | 301 |
| 17 | 3538 | RoboJackets | 9 | 120 | 17 | 20 |
| 18 | 33 | Killer Bees | 24 | 28 | 72 | 190 |
| 19 | 5940 | BREAD | 33 | 17 | 13 | 220 |
| 20 | 1771 | North Gwinnett Robotics | 6 | 1 | 4 | 200 |
| 21 | 340 | G.R.R. (Greater Rochester Robotics) | 47 | 75 | 34 | 93 |
| 22 | 4476 | W.A.F.F.L.E.S. | 44 | 60 | 61 | 3 |
| 23 | 624 | CRyptonite | 17 | 25 | 42 | 220 |
| 24 | 3015 | Ranger Robotics | 39 | 14 | 250 | 15 |
| 25 | 5406 | Celt-X | 72 | 126 | 81 | 79 |
| 26 | 4678 | CyberCavs | 53 | 35 | 104 | 23 |
| 27 | 7157 | μBotics | 76 | 69 | 25 | 235 |
| 28 | 1796 | RoboTigers | 100 | 95 | 41 | 959 |
| 29 | 1241 | THEORY6 | 70 | 5 | 15 | 555 |
| 30 | 2200 | MMRambotics | 29 | 203 | 96 | 197 |
| 31 | 3171 | HURRICANES | 131 | 161 | 169 | 358 |
| 32 | 1023 | Bedford Express | 19 | 140 | 11 | 272 |
| 33 | 5736 | Kingsmen Robotics | 201 | 214 | 89 | 285 |
| 34 | 1468 | Hicksville J-Birds | 137 | 147 | 51 | 413 |
| 35 | 4362 | CSPA Gems | 35 | 7 | 68 | 42 |
| 36 | 2046 | Bear Metal | 22 | 31 | 47 | 146 |
| 37 | 3339 | BumbleB | 51 | 106 | 363 | 236 |
| 37 | 7457 | suPURDUEper Robotics | 14 | 37 | 24 | 81 |
| 39 | 6328 | Mechanical Advantage | 21 | 19 | 114 | 114 |
| 40 | 1339 | AngelBotics | 28 | 10 | 38 | 95 |
| 41 | 3075 | Ha-Dream Team | 86 | 88 | 94 | 156 |
| 42 | 1114 | Simbotics | 159 | 634 | 105 | 1157 |
| 43 | 3847 | Spectrum -△◅ | 26 | 79 | 40 | 306 |
| 44 | 610 | Crescent Coyotes | 103 | 197 | 153 | 602 |
| 45 | 230 | Gaelhawks | 17 | 3 | 54 | 107 |
| 46 | 2601 | Steel Hawks | 303 | 830 | 567 | 159 |
| 47 | 2135 | Presentation Invasion | 59 | 112 | 103 | 16 |
| 48 | 2869 | Regal Eagles | 669 | 545 | 319 | 341 |
| 49 | 5895 | Peddie Robotics | 23 | 15 | 28 | 230 |
| 50 | 2791 | Shaker Robotics | 82 | 194 | 102 | 363 |
FRC Pick'em Weekly: https://youtu.be/X5TCJfeHKVg